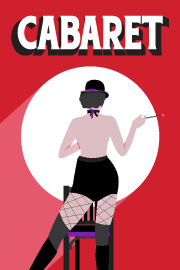 Musical
June 26 – September 14, 2019
Tickets: from $40
Run time: 2 hours, 30 minutes
Cabaret
Book by Joe Masteroff; Based on the play by John Van Druten and Stories by Christopher Isherwood; Music by John Kander; Lyrics by Fred Ebb
Directed by Susi Damilano
Music Direction by Dave Dobrusky
Choreography by Nicole Helfer
"Dazzling and timely! Chilling and wildly entertaining any night of the year." – San Francisco Examiner
"It would be hard to overstate just how good this show is … one of the best productions to ever grace a local stage." – Talkin' Broadway
PLAY DETAILS
Cliff Bradshaw, an American author working on a novel in pre-WWII Berlin, falls in love with the vivacious Sally Bowles, a singer at the local Kit Kat Klub. Their dream-like romance is tested by the political upheaval that changes their lives dramatically. Even after fifty years, this classic Tony Award-winning musical remains painfully prophetic, reminding us through Sally and the Emcee's lost souls what horrors humans are capable of, lest we ever forget.
THE CAST
PHOTOS
Production Photos by Jessica Palopoli.
THE CREATIVE TEAM
REVIEWS
"This musical will make you laugh, gasp, tap your toes, and cry—and remind you to never forget." – Elaine Elinson, 48 Hills
WOW! WOWIE! "Cabaret" at SF Playhouse is one of those shows you want to tell your friends, family, strangers and everyone that you meet that they have to see this production. – Carol Benet, For All Events
Stunning and powerfully emotional … an intense eye-opening production. – Steve Murray, Broadway World
Darker and more prescient than ever. Director Susi Damilano has done a masterful job. – Jay Barmann, SFist
Soars, defies, and challenges! – Barry Thornton, Theatrius
Cate Hayman is perfect for the part of Sally Bowles. – Kedar Adour, For All Events
San Francisco Playhouse has put together an incredibly strong cast. – George Heymont
San Francisco Playhouse, under the superb direction of Susi Damilano and Music Director Dave Dobrusky, does much more than revisit this powerful piece. She and her cast bring every nuance of character to bear as they seduce each other and the audience. – Sally Hogarty, East Bay Times
Come to this Cabaret! As the MC, John Paul Gonzalez effectively banishes audience memories of Joel Grey (original cast) and Alan Cumming (1998 Broadway revival). – Roberto Friedman, Bay Area Reporter
San Francisco Playhouse's cast brings unique individual nuance to the already iconic and unbeatable music and choreography. – Daryanna Lancet, The Daily Californian
San Francisco Playhouse's Cabaret is, to put it simply, a wow. A big, debauched, delightful wow. Everything in director Susi Damilano's production just clicks. – Chad Jones, Theaterdogs
As powerfully conceived and directed by Susi Damilano, … Cabaret is in every respect even more startling, unsettling, and yes, sensational in 2019. – Eddie Reynolds, Theatre Eddys
A musical gem! What sets apart the SF Playhouse production is its musical excellence. – Sue Barnett, J. Weekly
A still-relevant 'Cabaret' wows audiences at S.F. Playhouse! – Janos Gereben, San Francisco Classical Voice
ABOUT THE CREATORS
John Kander and Fred Ebb (Music and Lyrics): The Kander and Ebb collaboration of four decades has created what many would consider Broadway standards and contemporary classics: THE SCOTTSBORO BOYS (Tony Award Nomination), FLORA, THE RED MENACE, CABARET (Tony Award for Best Musical), THE HAPPY TIME, ZORBA, 70 GIRLS 70, CHICAGO, THE ACT, WOMAN OF THE YEAR (Tony Award for Best Score), THE RINK, KISS OF THE SPIDER WOMAN (Tony Award for Best Score) and STEEL PIER. Their collaboration also transferred itself to movies and television as they wrote original material for the Academy Awards, "Liza with a Z" (Emmy Award for Music and Lyrics), Funny Lady (Oscar nominated for Best Song), Lucky Lady, New York, New York, Stepping Out and Chicago (Oscar nominated for Best Song). In the mid-1980's the song "New York New York" became the official anthem of New York City. At the time of the unfortunate death of Mr. Ebb, Kander and Ebb had several projects in different stages of completion waiting in the wings including THE VISIT, ALL ABOUT US (a musical adaptation of Thornton Wilder play THE SKIN OF OUR TEETH) and CURTAINS.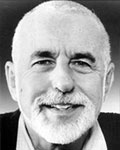 Joe Masteroff (Book): Born in 1919 in Philadelphia, he had only one dream from infancy: to write for the theatre. After the essential lonely childhood and four-year stint in the Air Force, he came to New York to face his future: book writer or book seller? Luckily, luck intervened. Before long he had three shows on Broadway bearing his name: The Warm Peninsula starring Julie Harris, and two musicals She Loves Me and Cabaret, for which he was the book writer. Thanks to indulgent parents, the New Dramatists, Hal Prince and many others, he is now retired and living in subdued luxury.
San Francisco Playhouse | 450 Post St. Floor 2M, San Francisco CA 94102 | (415) 677-9596 | Click for information on transportation, parking, and gas.
Click here to support San Francisco Playhouse.