Directions and Parking
Our Venue
See and Do in the Area
Eat and Drink
Where to Stay
San Francisco Playhouse is located in downtown San Francisco on the 2nd Floor in the Kensington Park Hotel at 450 Post Street (between Mason and Powell Streets) less than one block from Union Square in the heart of San Francisco's theatre district.
Note: Sandbox Series productions are not held at our Mainstage venue. Please consult the individual show page for info and directions.

The San Francisco Playhouse
450 Post Street
(2nd Floor of Kensington Park Hotel)
San Francisco, CA 94102
We're located on Post St. between Mason St. and Powell St.
Public Transportation:
If possible, we recommend Muni or BART, as we're just a 10 minute walk from the Powell Street station.

Parking is easy and convenient in Union Square. Below is a list of local parking garages.
Prestige Parking
520 Mason St., between Sutter and Post.
http://prestige-parking.com/
Note: Prestige Parking no longer offers parking validation with ticket stub.
Ellis – O'Farrell Garage
(415) 986-4800
www.eofgarage.com
Sutter Stockton Garage
(415) 982-8370
444 Stockton Street
Union Square Garage
(415) 397-0631
333 Post Street
In October 2012, San Francisco Playhouse moved into a new home! We moved into a beautiful 199-seat theatre at 450 Post Street on the second floor of the Kensington Park Hotel at the start of our 10th anniversary season.
In 1982, noted local theatre architect Eugene Angell transformed the second-story Elks Lodge and its flat-floored assembly hall into a state-of-the-art theatre. Originally constructed in 1924 by the Benevolent and Protective Order of Elks, the Spanish-Gothic structure now houses the Kensington Park Hotel, Farallon Restaurant, the theatre and various shops.
To maintain the intimate theater experience it's known for, San Francisco Playhouse reduced the current seating to nine rows, converting the 400 seat theatre to 199 seats. A new stage was built and the lobby & bar area got a facelift, making the new venue the most exciting destination in San Francisco's Theatre District.
Seating Chart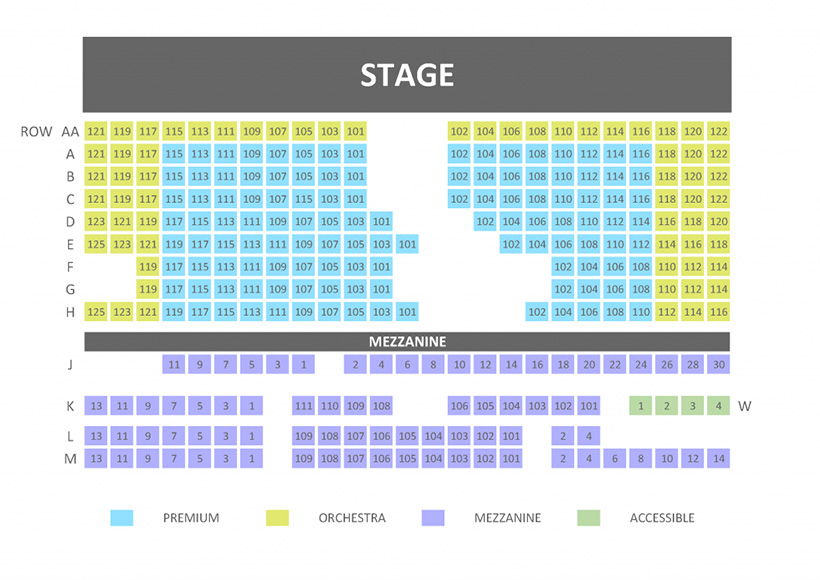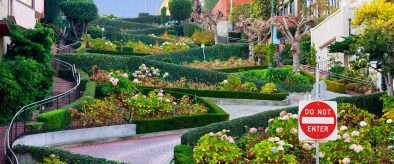 Lombard Street
Go for a nice view of Lombard Street
You have probably heard about Lombard Street and even if it really does look like the picture in your Lonely Planet book it is worth a visit. Park yourself among the tourists at the top of Hyde Street or at the bottom at Leavenworth Street and view the cars crisscrossing down this pinkish flower lined miracle of a street. Don't forget the camera to catch the spectacle and show it to your less fortunate friends that have yet not been to San Francisco.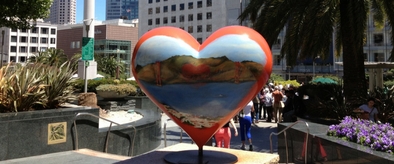 Union Square
Go shopping at Union Square
If retail therapy is your bag, the historic Union Square area in downtown San Francisco is the ideal place to spend the afternoon. Centered on the beautiful Union Square Park, the neighborhood is home to fashion stores, tech shops, discount outlets, malls, and more. Grab lunch at one of the numerous cafes and restaurants that dot the area, or take in a matinee at one of the theatres in the nearby theatre district.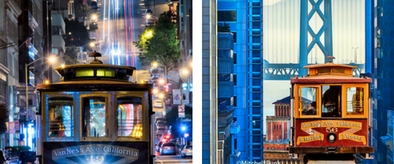 Cable Car
Hop on a cable car
San Francisco's iconic cable car is a one-of-a-kind mode of transportation, and an essential tourist staple. Catch one at the Market and Powell terminus, and watch the cars spin on the manually-operated turntable. Don't miss your chance to grab a photo of Alcatraz in the distance as you roll down Hyde street towards Fisherman's Wharf. At the wharf, don't overlook the sea lion colony on Pier 39 – these long-time denizens of the wooden docks are always eager for a photo opportunity.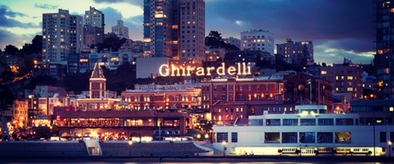 Ghirardelli
Have some ice cream at Ghirardelli Square
Have you been in San Francisco a while you've probably noticed that most drugstores around are crammed with chocolate bars of a special brand called Ghirardelli. This is not as an inexplicable enigma as one might think, but the solution is found down by the water close to Fisherman's wharf where Ghirardelli Square is positioned.  This is an old chocolate factory established in the 1800's by an Italian immigrant. Nowadays the  factory has enough restaurants, ice cream shops and gift stores  to satisfy anyone with a craving for sugar. Of course this is also where you should buy some real San Francisco chocolate gifts to bring home to your chocolate loving friends.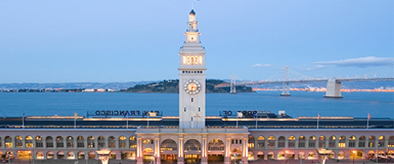 Ferry Building
Saturday Brunch at the Ferry Building
Do not miss the Farmers market on Saturdays down by the Ferry Building in Embarcadero. What a sight! If good food is your passion you've found your place. A Saturday morning the plaza around the serenely blue Ferry building, is a sizzling melting pot of life. The sparkling impressions of colorful fruits, vegetables and flowers mixed with the smells of different cheeses, sausages and newly baked bread will literally overthrow you into a moment of silence well needed just to grasp it all. Take your time to saunter the market, taste all there is to taste (a lot!) and then if you're not too full, have a brunch or a coffee in the sunshine at the patio of one of the Ferry building Cafes. Is there a better way to start the weekend?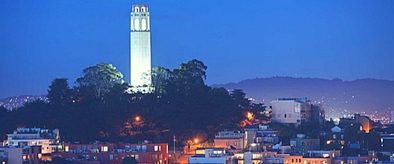 Telegraph Hill
Hike up Telegraph Hill
The best way to explore any city is by foot so take the chance to challenge the hills of San Francisco and climb up the steep steps on either side of Telegraph hill. You will find some great  hidden spots and maybe even catch a glimpse of one of the wild parrots that hide in the green lushness. The effort will be highly rewarded once you reach the top and find yourself with a stunning view of the city and the San Francisco Bay. A view is surely not unattainable at other places either but what makes Telegraph Hill so special is that at its top the Coit Tower majestically resides. There is an interesting story about the founder of this tower, Lillie Hitchcock Coit, who was saved by firemen as a child and thereafter became the constant fire brigade companion, helping in putting out fires around the city. Go there and find out more about her unusual life.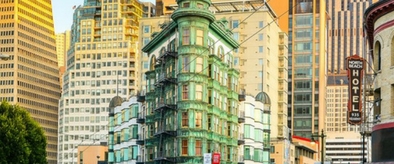 North Beach
Take a lazy stroll down North Beach
North Beach is the area to explore for someone with a preference for the Italian cuisine. The neighborhood isn't called "Little Italy" for no reason. Here you don't have to walk far between cozy restaurants and interesting bars. Do some shopping in the numerous quirky stores spread along the streets. Naturally you can't miss the infamous City Lights Bookstore, once the home of talented Beatnik poets like Jack Kerouac and Allen Ginsberg. Anyone who enjoys the silent enigmatic power of books will spend at least a couple of hours here tiptoeing over the creaky floorboards enjoying the smell of new paper, flipping the stiff book pages and inhaling the power of literature. It's open until midnight so there's no excuse not to go.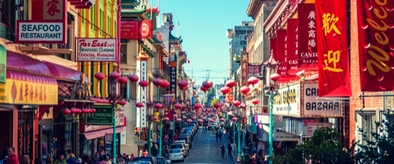 Chinatown
Eat Chinese Food in Chinatown
The tourist that dutifully has made the San Francisco background check already knows that this Chinatown is the biggest one in the USA. Stepping through the impressive entrance on Grant Street is like leaving America a little while and stepping into a different world. This, the busiest street of Chinatown, is paved with uncountable stores where you can get any knick-knack or gewgaw at much lower prices than down by Fisherman's Wharf. Of course you can also find all the amazingly good and cheap Chinese food you can imagine in close proximity.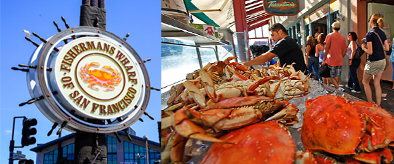 Fisherman's Wharf
Discover Fisherman's Wharf
This classic tourist spot down by the water is hectic and crammed but still a must-see. Have some clam chowder in the classic bowls of sourdough for lunch and then walk by the water while enjoying the many street artists playing music, performing magic tricks or just chasing you for money. Be sure to watch out for the notorious "Bush-man" who hides behind a bush ready to jump out and scare you any time you unknowingly pass by. The screams of startled tourists is a common streak in the buzzing symphony by the bay. While down there you should also check out the sourdough factory and buy some bread loaves in artsy shapes of animals.  For the scientifically interested there is also the Exploratorium museum to see. The first Thursday of the month it's free of charge and you can hang out there for hours experimenting your time away while discovering what a fascinating world we live in.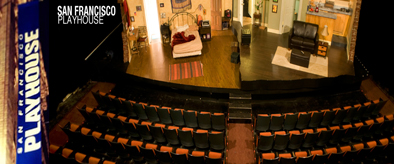 San Francisco Playhouse
See a play
You don't need to go all the way to Broadway to take in some world-class theatre and performing arts. San Francisco's Union Square is home to numerous theatres, including the San Francisco Playhouse. Check out our listings to see what's playing now. Don't forget to show up early and enjoy happy hour, with half-priced drinks and snacks.