RISING STAR PROGRAM
The Rising Star Theatre Attendance Program inspires a new generation of theatregoers by providing Bay Area high school students with a four play season subscription. As part of the TAP, students receive a pre-show lesson plan that includes theatre games/warm-ups, scene teasers and comprehension questions; the post-show lesson provides further enrichment with activities that draw on their experience as audience members.  Rising Stars also participate in an immediate post-show discussion with the cast and director. They then write a letter to their adult subscriber-sponsor describing their reactions to the performances.
Our Rising Star Program has served over 2000 students from 28 local high schools. Approximately 50% have no formal drama program at their schools, 75% are economically disadvantaged, and 90% are youth of color. In our recent end-of-the-season survey, 25% of students reported that they hadn't seen a single play prior to attending a San Francisco Playhouse production, and another 50% had only seen one to two shows before participating in the Rising Star Program.

TESTIMONIALS AND LETTERS
Along with seeing the performances, Rising Stars get:
The Star Treatment
Rising Stars get some of the best arts exposure around, and at no cost to them or their schools:
A pre-show lesson in the classroom
A post-show talkback with the artists
The chance to reflect in a letter to their sponsor
Join us at one of our Rising Star performances for a chance to meet your Rising Star and participate in a post-show talkback with the students and artists.
RISING STAR NIGHTS – 21/22 SEASON
Thursday, October 21st, 2021
Tuesday, October 26th, 2021
Tuesday, November 9th, 2021
Wednesday, November 10th, 2021
Twelfth Night
Thursday, December 2nd, 2021
Tuesday, December 7th, 2021
Wednesday, December 8th, 2021
Thursday, December 9th, 2021
Heroes Of The Fourth Turning
Thursday, February 3rd, 2022
Tuesday, February 8th, 2022
Wednesday, February 9th, 2022
Thursday, February 10th, 2022
Water By The Spoonful
Tuesday, April 5th, 2022
Wednesday, April 6th, 2022
Thursday, April 7th, 2022
Thursday, April 14th, 2022
The Paper Dreams Of Harry Chin (Optional)
Thursday, May 12th, 2022
Tuesday, May 17th, 2022
Wednesday, May 18th, 2022
Thursday, May 19th, 2022
RISING STAR PROGRAM COORDINATOR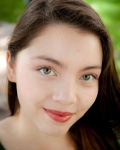 Lindsay Sporleder (They/Them) is delighted to join the San Francisco Playhouse family serving as the Rising Star Program Coordinator. Serendipitously, they participated in the Rising Star Program while attending Abraham Lincoln High School 10 years ago. They studied Theatre and Psychology at San Jose State University and have been an avid theatre lover their entire life. They are excited to revive the Rising Star Program and share the joy and appreciation of the arts with new generations. Before the pandemic, Lindsay played Linda on the National Tour of Evil Dead The Musical with Roshi Entertainment and will be performing in Cry Baby The Musical at The Western Stage – November 2021. A San Francisco native, born and raised, Lindsay is passionate about community, equity, and fostering a safe space for and with disadvantaged and marginalized folx to create, learn, collaborate, support, uplift and empower one another.