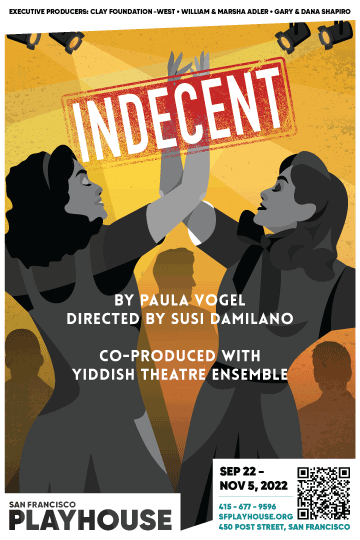 Drama
September 22 – November 5, 2022
Tickets: $15 – $100
Est. run time: 1 hr, 50 mins. No intermission.
Call 415.677.9596 to buy tickets by phone.
SHARE THIS SHOW WITH YOUR FRIENDS:
Audience (549 Reviews): 4.83
Indecent
By Paula Vogel
Directed by Susi Damilano
Music Direction by Dmitri Gaskin
Choreography by Nicole Helfer
Co-produced with Yiddish Theatre Ensemble

 Top rating! "Director Susi Damilano shapes the whole shebang with sensitivity and savvy … Indecent gives so many gifts." San Francisco Chronicle
"Prepare for one of the most theatrical, thrilling, joyous, heartbreaking, illuminating, important plays you are likely to see this — or any other — year. Yes, yes, yes!" Talkin' Broadway
"Remarkable! Brilliantly performed by seven actors playing 46 different roles." East Bay Times
"Indecent soars with poignant imagery, gut-wrenching emotion, and thrilling performances." Broadway World
"Marvelously compelling …Indecent is the kind of play that sticks with you long after you leave the theater" The Mercury News
PLAY DETAILS
Indecent is based on the real-life events surrounding the scandalous Broadway debut of Sholem Asch's 'God of Vengeance,' considered to be a seminal work of Yiddish theatre by some, and a piece of traitorous libel by others. With a klezmer-infused score and filled with joyous songs and dances, this play charts the history of that incendiary work, the artists who risked their careers and lives to perform it, and the evolving identity of the culturally rich community that inspired its creation. Co-Produced with Yiddish Theatre Ensemble.
PRODUCTION PHOTOS
THE CAST
THE MUSICIANS
THE CREATIVE TEAM
ABOUT THE PLAYWRIGHT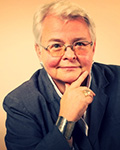 PAULA VOGEL Paula Vogel is a Pulitzer Prize-winning playwright whose plays are produced throughout the world. Indecent opened on Broadway in April 2017 and was nominated for a Tony Award for Best Play. How I Learned to Drive received the Pulitzer Prize, Lortel Prize, Drama Desk, Outer Critics Circle, and New York Drama Critics awards for Best Play, and her second OBIE Award. Other plays include The Long Christmas Ride Home, The Mineola Twins, The Baltimore Waltz, Hot 'N' Throbbing, Desdemona, And Baby Makes Seven, The Oldest Profession, A Civil War Christmas, and Don Juan Comes Home from Iraq. Most recent awards include the American Theater Hall of Fame Award, the Dramatists Guild Lifetime Achievement Award, the Lillys, the Thornton Wilder Prize, the OBIE Award for Lifetime Achievement, and the NY Drama Critics' Circle Award. She is honored to have three awards dedicated to emerging playwrights in her name: the American College Theater Festival, the Paula Vogel Award given annually by the Vineyard Theatre, and the recent Paula Vogel mentor's award by Young Playwrights of Philadelphia. Her plays are published in six volumes by TCG Press and she teaches playwriting workshops throughout the United States and abroad. For more, please visit www.paulavogelplaywright.com
PARTNERS
San Francisco Playhouse | 450 Post St. Floor 2M, San Francisco CA 94102 | (415) 677-9596