Call 415.677.9596 to buy tickets by phone.
SHARE THIS SHOW WITH YOUR FRIENDS:
Heroes of the Fourth Turning
By Will Arbery
Directed by Bill English
"An astonishing new play" – New York Times
PLAY DETAILS
Seven years ago, Teresa, Kevin, Justin, and Emily graduated from a Catholic college in Wyoming. Now, they're back for a backyard reunion to toast their mentor, Gina. As the four friends catch up, their celebration spirals into spiritual chaos, clashing politics, and furious debate. Called "a red-state unicorn" by The New York Times and a Pulitzer finalist, Heroes of the Fourth Turning speaks to the heart of a country at war with itself.
Heroes of the Fourth Turning is presented by arrangement with Concord Theatricals on behalf of Samuel French, Inc. www.concordtheatricals.com
ABOUT THE PLAYWRIGHT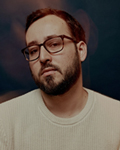 WILL ARBERY Will Arbery is a playwright from Texas + Wyoming + seven sisters. His plays include Heroes of the Fourth Turning (Playwrights Horizons), Plano (Clubbed Thumb), Evanston Salt Costs Climbing (New Neighborhood) and Wheelchair (3 Hole Press). He's currently under commission from Playwrights Horizons and Shadowcatcher Entertainment. He's a member of New Dramatists, The Working Farm at SPACE on Ryder Farm, P73's Interstate 73, Colt Coeur, Youngblood, and an alum of Clubbed Thumb's Early Career Writers Group. His plays have been developed at Clubbed Thumb, Playwrights Horizons, NYTW, The Vineyard, SPACE on Ryder Farm, Ojai Playwrights Conference, Cape Cod Theater Project, The New Group, EST/Youngblood, The Bushwick Starr, Alliance/Kendeda, and Tofte Lake Center. Dance work: Pioneer Works, MCA Chicago, Watermill Center. MFA: Northwestern. BA: Kenyon College. He's represented by Di Glazer + Sam Barickman at ICM Partners, and Eva Dickerman at Odenkirk-Provissiero.
San Francisco Playhouse | 450 Post St. Floor 2M, San Francisco CA 94102 | (415) 677-9596