Call 415.677.9596 to buy tickets by phone.
SHARE THIS SHOW WITH YOUR FRIENDS:
Heroes of the Fourth Turning
By Will Arbery
Directed by Bill English
"A drama as exciting and challenging—nay, daring—as any new play I've ever reviewed … This is a play you must see, right now." – Terry Teachout, The Wall Street Journal
PLAY DETAILS
Days after the white-supremacist riot in Charlottesville, four old friends gather for a reunion at their conservative Catholic alma mater in Wyoming. As the party stretches late into the night, they grapple with their beliefs and their place in the world, the conversation spiraling into spiritual chaos, clashing politics, and furious debate. Winner of the 2020 Obie Award for Playwriting, Lucille Lortel Award for Outstanding Play, and a Pulitzer Finalist, the riveting and witty Heroes of the Fourth Turning speaks to the heart of a country at war with itself.
Heroes of the Fourth Turning is presented by arrangement with Concord Theatricals on behalf of Samuel French, Inc. www.concordtheatricals.com
THE CAST
ABOUT THE PLAYWRIGHT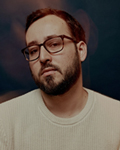 WILL ARBERY is a playwright from Texas + Wyoming + seven sisters. His play Heroes of the Fourth Turning premiered at Playwrights Horizons in Fall 2019 and was a Finalist for the 2020 Pulitzer Prize for Drama and winner of numerous awards, including the 2020 Obie Award for Playwriting, the Lucille Lortel Award for Outstanding Play, the New York Drama Critics Circle Award for Best Play and the Outer Critics Circle John Gassner Playwriting Award. Arbery also won the Whiting Award for Drama in 2020. His play Corsicana will be having its world premiere at Playwrights Horizons in the summer of 2022 in a production to be directed by Sam Gold. In addition to Heroes of the Fourth Turning and Corsicana, Will's other plays include: Plano (Clubbed Thumb), Evanston Salt Costs Climbing (New Neighborhood), You Hateful Things (NYTW Dartmouth Residency), and Wheelchair (3 Hole Press). He's currently under commission from Playwrights Horizons, MTC, and Audible. He's a member/alum of New Dramatists, The Working Farm at SPACE on Ryder Farm, Page 73's Interstate 73, Colt Coeur, Youngblood, and Clubbed Thumb's Early Career Writers Group. His plays have been developed at Clubbed Thumb, Playwrights Horizons, NYTW, The Vineyard, SPACE on Ryder Farm, Ojai Playwrights Conference, Cape Cod Theater Project, The New Group, EST/Youngblood, The Bushwick Starr, Alliance/Kendeda, and Tofte Lake Center. Will was a Consultant on Season 3 of "Succession", and has television projects in development with A24 and Frank Rich, Endeavor Content and Littlefield Company/Hulu. He also has several features in development, including with BBC Films and Sight Unseen. MFA: Northwestern. BA: Kenyon College. He's represented by John MacGregor and Olivier Sultan at CAA, and Eva Dickerman at Odenkirk-Provissiero.
San Francisco Playhouse | 450 Post St. Floor 2M, San Francisco CA 94102 | (415) 677-9596