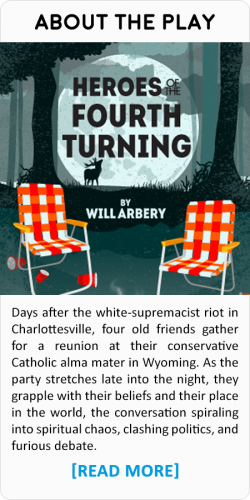 SHARING RESOURCES
Our production of Heroes of the Fourth Turning by Will Arbery features some colorful language and touches on themes of abortion, racism, and other politically charged topics. We invite audience members young and old to let this play ignite conversations and embrace the opportunity to listen and ask more questions.
We understand that the content of the play might be triggering to some people and we want to make sure to offer resources that can help support you. We also want to offer additional resources for those feeling compelled to have difficult conversations, practice listening, and flex that empathy muscle. Please find some suggestions below.
How to Have Difficult Conversations
"Straight Shooting Brené Brown: 4 Steps for Tough Conversations" by Karen Beattie
"How to have difficult conversations at work: 5 key steps" by Erin Eatough
"How To Talk Across The Aisle: Five Ways to Fight Polarization All by Yourself" by Kamy Akhavan
NAMI HelpLine
The NAMI (National Alliance of Mental Illness) HelpLine is a free, nationwide peer-support service providing information, resource referrals and support to people living with a mental health condition, their family members and caregivers, mental health providers and the public. HelpLine staff and volunteers are experienced, well-trained and able to provide guidance.
RAINN (Rape, Abuse & Incest National Network)
RAINN created and operates the National Sexual Assault Hotline (800.656.HOPE, online.rainn.org y rainn.org/es) in partnership with more than 1,000 local sexual assault service providers across the country and operates the DoD Safe Helpline for the Department of Defense. RAINN also carries out programs to prevent sexual violence, help survivors, and ensure that perpetrators are brought to justice.
Suicide Prevention Lifeline
https://suicidepreventionlifeline.org//
We can all help prevent suicide. The Lifeline provides 24/7, free and confidential support for people in distress, prevention and crisis resources for you or your loved ones, and best practices for professionals in the United States.
American Foundation for Suicide Prevention
You're not alone. Whether you have struggled with suicide yourself or have lost a loved one, know you are not alone. Hear about personal experiences from people in your local community whose lives have been impacted by suicide.