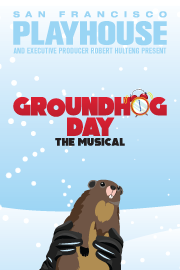 Musical
November 20, 2019 – January 18, 2020
Tickets: $40 – $125
Estimated run time: 2 hours, 45 mins with one intermission
Closed January 18, 2020
Click to see what's playing now
Call 415.677.9596 to buy tickets by phone
Groundhog day
Book by Danny Rubin; Music and Lyrics by Tim Minchin
Directed by Susi Damilano
Music direction by Dave Dobrusky
Choreography by Nicole Helfer
"An impressively tight ship … Put tickets on your wish list this season!" – Bay Area Reporter
"Groundhog Day is the perfect opener for the holiday season … Tim Minchin's songs shine brilliantly." – Theatrius
"Groundhog Day reveals itself as a Christmas story." – San Francisco Chronicle
PLAY DETAILS
It's February 2nd in Punxsutawney, PA, and a storm is coming. Phil Connors, a big-city weatherman, couldn't be more frustrated to be reporting on the small-town Groundhog Day Ceremony—until he finds himself reliving the same day over and over again. Stuck in an endless loop of arrogance and cynicism amongst the cheery townsfolk, Phil must learn to take advantage of his second, third, and fourth chances and break the cycle.
A note on the content of Groundhog Day
This show features the use of strobe lighting, a prop gun, and gunshot sound effects. While all ages are welcome,
Groundhog Day
is not a children's show. For a more detailed explanation of content and themes,
click here
.
THE CAST
PHOTOS
Photos by Jessica Palopoli.
REVIEWS
"Practically a holiday miracle! A terrific adaptation to the stage that really captures the best parts of the movie."
– The Mercury News
"Music Director Dave Dobrusky turns the score into gold, as does the exemplary cast of supporting characters."
– Broadway World
"Does a terrific job of telling a great story with a timeless message."
– Talkin' Broadway
"Bring this GROUNDHOG home for the holidays!"
– VMedia Backstage
🟊🟊🟊🟊🟊 "a laugh-till-you-hurt, spirit-soaring, and heart-warming Groundhog Day."
– Theatre Eddys
THE CREATIVE TEAM
ABOUT THE CREATORS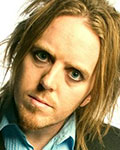 Tim Minchin (Music and Lyrics) is a musician, actor, comedian, writer and director. He's toured extensively in the US, UK and Australia, performing solo, with bands, and with symphony orchestras. He's released five DVDs, the most recent recorded with the Heritage Orchestra at the Royal Albert Hall. Screen acting credits include Robin Hood Origins (2018), Secret River (2015), and Californication (Season 6 – 2013). Stage acting credits include Rosencrantz and Guildenstern are Dead (Sydney Theatre Company) and Jesus Christ Superstar (UK/Australia tours). Tim has written extensively for theatre, and is the composer-lyricist of Matilda the Musical (with Dennis Kelly) and Groundhog Day the Musical (with Danny Rubin).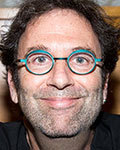 Danny Rubin (Book) After many years writing and performing with improvisational theater companies as well as scripting industrial films and children's television, Danny Rubin began writing screenplays. His screen credits include Hear No Evil, S.F.W., and Groundhog Day, for which he received the 1993 British Academy Award for Screenwriting and the Critics' Circle Award for Screenwriter of the Year, as well as honors from the Writers Guild of America and the American Film Institute. Rubin has taught screenwriting throughout the US and internationally, and from 2008-2013 he served as the first Briggs-Copeland Lecturer on Screenwriting at Harvard University. Groundhog Day: The Musical opened to rave reviews at the Old Vic Theatre in London in August of 2016 earning Rubin and composer/lyricist Tim Minchin the Oliver Award for Best New Musical. The show opened on Broadway in April of 2017 garnering 7 Tony nominations including Best Musical and Best Book to a Musical. Rubin holds a BA in biology from Brown University and an MA in radio, television, and film from Northwestern University. He is married to librarian, web-designer and architect Louise Rubin with whom he shares a home in New Mexico and at least two children.
CONTENT NOTE
We love this musical because we feel it is an affirmation of life and the journey of learning to appreciate the people around us and the things we have. With this in mind, we want to bring to attention a potentially challenging section of the show called "Hope," which depicts a series of suicides.
This part of the show illustrates the main character's desperation and inability to escape the repetitive and seemingly meaningless trap his life has become. These scenes are meant to be humorous, and we have staged them comedically, on purpose, because we do not want to equate the fictional depictions on stage with the very real causes of suicide and its devastating impacts. Our intention is that by sharing this musical in community, we can affirm joy, celebrate together, and let you—our San Francisco Playhouse family—know that, if you are facing a dark time, please reach out. There is real support available to you. In the lobby, we've placed a "Seriously stuck in bad weather?" notice with suicide prevention and crisis hotline numbers, should you need them. Click here for more information on the Suicide Prevention Hotline.
We hope you enjoy the show and experience Groundhog Day not only as entertainment, but also as an opportunity for community discussion and growth.
*Member of Actors' Equity Association. This theater operates under an agreement with Actors' Equity Association, the Union of Professional Actors and Stage Managers in the United States.
San Francisco Playhouse | 450 Post St. Floor 2M, San Francisco CA 94102 | (415) 677-9596