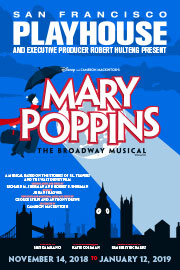 Musical
November 14, 2018 to January 12, 2019
Tickets: from $40
Estimated run time: 2 hrs 45 mins with one intermission
OR CALL 415.677.9596 FOR TICKETS AND INFO.
Audience (424 Reviews) 4.55
Disney and Cameron Mackintosh's
Mary Poppins
A Musical based on the stories of P.L. Travers and the Walt Disney Film
Original Music and Lyrics by Richard M. Sherman and Robert B. Sherman; Book by Julian Fellowes; New Songs and Additional Music and Lyrics by George Stiles and Anthony Drewe; Co-Created by Cameron Mackintosh
Directed by Susi Damilano; Music direction by Katie Coleman; Choreography by Kimberly Richards
PLAY DETAILS
The entitled children of the stern Mr. Banks have made short work of a string of nannies. But when the tattered sorceress Mary Poppins arrives on their doorstep, she must use a combination of magic and common sense to engage the children to drop their silver spoons and lead their distracted dad to kite-flying redemption. A new take on a classic tale, this musical will truly make you believe that anything can happen if you let it—and want to sing "Supercalifragilisticexpialidocious" from the chimney tops!
THE CAST
San Francisco Playhouse
450 Post St., San Francisco CA 94102 | Box Office: 415.677.9596 | Map and Directions
Advisories
Mary Poppins is a family-friendly show. Our production is not recommended for children under the age of 6, for the safety and comfort of all theatergoers. All children must have a ticket.
PHOTOS
Photos by Jessica Palopoli.
THE CREATIVE TEAM
San Francisco Playhouse's production of Mary Poppins is made possible by executive producer Robert Hulteng, producers Fred Karren & Leslie Karren, and associate producers Dan & Suzanne Car.
San Francisco Playhouse | 450 Post St. Floor 2M, San Francisco CA 94102 | (415) 677-9596