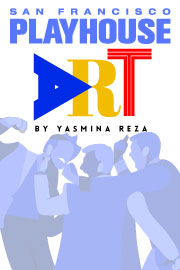 Comedy
2020/21 Season
Tickets: $35 – $125
Estimated run time: TBA
Tickets now available to subscribers. Single tickets will go on sale in Summer 2020.
Call 415.677.9596 to subscribe by phone.
Art
By Yasmina Reza
"An impeccably tailored piece of work" – The New York Times
PLAY DETAILS
Serge has purchased a very expensive modern work of art: a five-feet-by-four-feet painting of white diagonal lines on a white canvas, Marc cannot believe that a friend of his could possibly spend so much money on such a piece, and Yvan wants everyone to get along. Their friendships are tested as they wonder, "are you who you think you are, or are you who your friends think you are?"
ABOUT THE PLAYWRIGHT
Yasmina Reza (Playwright) is a French playwright and novelist based in Paris whose works have all been multi-award winning, critical and popular international successes. On Broadway, Ms. Reza's play Art received the 1998 Tony Award and the New York Drama Critics Circle Award for Best Play. The London production of Art received a 1996-97 Olivier Award for Best Play. The original National Theatre production of Life x 3 earned a 2001 Olivier Award nomination for Best Play. Ms. Reza's other plays include Conversations After a Burial, The Passage of Winter and The Unexpected Man, which share the distinction with Art and Life x 3 as having been translated into 35 languages and produced worldwide. She translated La Metamorphose (Stephen Berkoff's version of Kafka's Metamorphosis), which was directed by Roman Polanski. Novels include Hammerklavier, Desolation, and Adam Haberberg. Film: Le Pique-Nique de Lulu Kreutz (directed by Didier Martiny).
San Francisco Playhouse | 450 Post St. Floor 2M, San Francisco CA 94102 | (415) 677-9596