The arc of Cabaret as a force on the cultural landscape reaches back eight decades. The novel Goodbye to Berlin by British author Christopher Isherwood – actually a series of six short stories and novellas including one titled "Sally Bowles" – was first published in 1939. The stories focused on Jews, gays, and others who would soon be oppressed by the rising Nazi regime. The novel was also published as part of a collection published in 1945 as The Berlin Stories.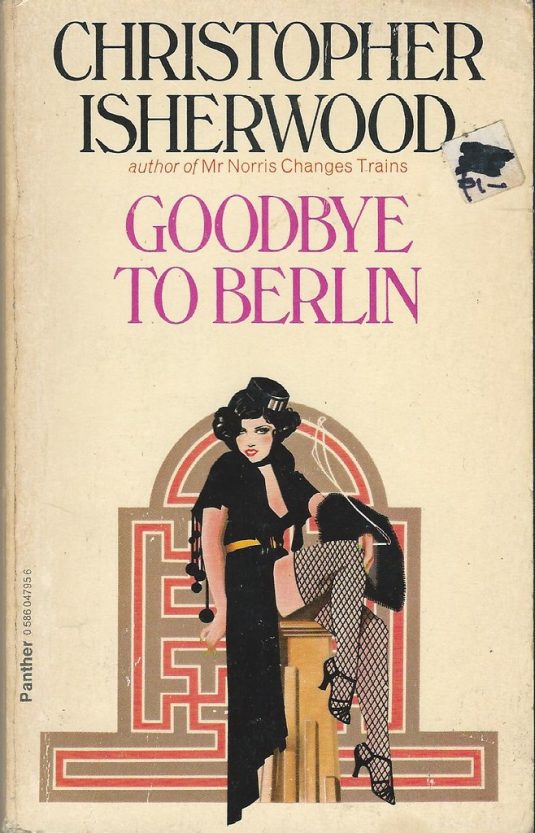 John Van Druten, author of I Remember Mama, adapted the first novel into the 1951 play I Am a Camera that starred a twenty-five-year-old Julie Harris as Sally Bowles, in the first of her five Tony Award-winning roles, and William Prince as a character based on author Isherwood. The production also earned a Tony for Marian Winters as Natalia Landauer, a character from "The Landauers" in the original Isherwood  novel, who would return many years later in the Cabaret story. The play was adapted to film in 1955 with Harris as Sally, Laurence Harvey as Isherwood, and Shelley Winters as Landauer.
A musical adaption was originally developed by Sandy Wilson, the British composer of The Boyfriend, but his producer's options on the  source material lapsed and were acquired by Tony-winning producer-director Hal Prince, whose credits to that point included West Side Story (1957) and Fiddler on the Roof (1964). Prince brought in previous collaborators playwright Joe Masteroff from She Loves Me and composer John Kander and lyricist Fred Ebb from Flora the Red Menace to work on his new project. Their original concept was a drama bookended by music, but it soon evolved to a more traditional musical theatre form.
This didn't stop Prince from stretching the form. When it premiered on Broadway there was no overture and no traditional curtain raising. Audiences entered to a spare open stage and faced themselves in a large warped mirror. Many of the musical performances were presented as acts in the cabaret while still advancing the plot.
The original cast included Jill Haworth as Sally, Bert Convy as the now Americanized writer Clifford Bradshaw, Joel Grey as the Emcee of the cabaret, Jack Gilford as the Jewish fruit-seller Herr Schultz, and in something of a casting coup, Lotte Lenya, widow of composer Kurt Weill, as the landlord Fräulein Schneider. The production opened at the Broadhurst Theatre in 1966 and won eight Tony Awards including trophies for director Prince, Grey, Kander and Ebb, and Best Musical.
As dramatized in the recent FX television series Fosse/Verdon, director-choreographer Bob Fosse was eager to improve on the only moderate success of his film directing debut with Sweet Charity in 1969. What he developed as the film version of Cabaret is now regularly cited as a landmark example of how to truly adapt a work from the stage to the screen.
Fosse jettisoned half the score and focused on both the enigma of Sally Bowles, with an iconic performance by Liza Minnelli, and on the subtle and insidious emergence of fascism in the time. Actress and model Marisa Berenson played Natalia Landauer, a wealthy Jewish socialite caught in the perplexing political changes, bringing back a character from the original Isherwood novel. Joel Grey reprised his role as the Emcee and became one of only nine actors to date to win both a Tony and an Oscar for the same role. Overall, the film won eight Oscars including for Minnelli and director Fosse.
Cabaret returned to the Broadway stage in 1987 in a very traditional revival with Joel Grey alongside Alyson Reed as Sally, Greg Edelman as Clifford Bradshaw, and Werner Klemperer of Hogan's Heroes fame as Herr Shultz.
In 1993, Sam Mendes, director of American Beauty and The Ferryman, launched a significantly revised version of Cabaret at London's  Donmar Warehouse that interpolated songs written by Kander and Ebb for the film like "Maybe This Time" with the original score. The production featured a career-defining performance by Alan Cumming as the Emcee in a more aggressively sexual interpretation than had been played by originator Grey.
Five years later it transferred to Broadway at the site of the legendary nightclub Studio 54 with Cumming winning a Tony in the lead and a starry series of Sallys including Natasha Richardson, Brooke Shields, and Molly Ringwald. It ran for almost six years and remains the third longest-running revival in Broadway history. This version was revived again for a year in 2014 with Cumming joined by Oscar-nominee Michelle Williams as Sally.
Over eighty years ago Christopher Isherwood explored a heady, free-wheeling pre-war Berlin. What he created from those experiences has never been more than a stage, screen, or bookshelf away. Come to the cabaret!
– Robert Sokol
The following two tabs change content below.
Latest posts by San Francisco Playhouse (see all)