Call 415.677.9596 to buy tickets by phone.
SHARE THIS SHOW WITH YOUR FRIENDS:
The Great Khan
By Michael Gene Sullivan
Directed by Darryl V. Jones
"I want the audience to have a great time… then march out of the theatre and overthrow oppression by the corporatists." – Playwright Michael Gene Sullivan
PLAY DETAILS
Jayden, an African American teenager, just wants to be his game-playing, nerdy self. But after he saves a girl, Ant, from a sexual assault, he and his mother are forced to move to keep him safe from the boys who attacked her. While Jayden debates with himself if he should toughen up, Ant tries to reject the tough Black girl persona she has adopted. Both are trying to figure out how to define themselves in a culture that insists on seeing them as forever dangerous. Oh, and then Genghis Khan shows up.
ABOUT THE PLAYWRIGHT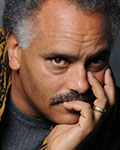 Michael Gene Sullivan is award-winning playwright, director, and actor based in San Francisco. Michael's plays have been produced and performed at theaters throughout the United States, and in Greece, England, Scotland, Spain, Columbia, Ukraine, The Netherlands, Argentina, Canada, Mexico, as well as at the Melbourne International Arts Festival (Australia), the International Festival of Verbal Art (Berlin), The Spoleto Festival, (Italy), and The Hong Kong Arts Festival.
Michael is Resident Playwright for the Tony and OBIE award-winning (and despite its name never, ever silent) San Francisco Mime Troupe, where he has written or co-written over 20 plays, including Tales of the Resistance, Freedomland, Schooled, Red State, Posibilidad, Making A Killing, and 1600 Transylvania Avenue. He was also a Resident Playwright for the Playwrights Foundation, and was awarded a 2017 artist residency at the Djerassi Arts Center. Michael's non-Mime Troupe plays include the award-winning all-woman political farce Recipe, A Red Carol, his critically-acclaimed one person show, Did Anyone Ever Tell You-You Look Like Huey P. Newton?, and his stage adaptation of George Orwell's 1984, which opened at Los Angeles' Actors' Gang Theatre under the direction of Academy Award winning actor Tim Robbins. 1984 has since been produced nationally (most recently at the Alley Theatre in Houston and national tour with New York's Aquila Theatre) and in 14 countries around the world, translated into 5 languages, and is published in the United States, Canada, and Spain. www.michaelgenesullivan.com
San Francisco Playhouse | 450 Post St. Floor 2M, San Francisco CA 94102 | (415) 677-9596