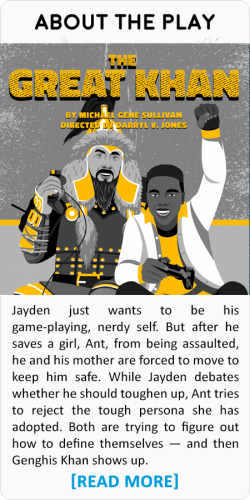 SHARING RESOURCES
Our co-production of The Great Khan by Michael Gene Sullivan touches on themes of sexual assault, violence, and racism, and features some colorful language. We invite audience members young and old to let this play ignite conversations and embrace the opportunity to learn.
We understand that the content of the play might be triggering to some people and we want to make sure to offer resources that can help support you. We also want to offer additional resources for those feeling compelled to help, support, and learn more. Please find some suggestions below.
Recommended Books
"Genghis Khan and the Making of the Modern World" by Jack Weatherford (2004)
"Workin' on the Chain Gang" by Walter Mosley (2000)
"A People's History Of The United Sates" by Howard Zinn (1995)
"To Die For The People" by Huey P. Newton, edited by Toni Morrison (1972)
"The Wretched of the Earth" by Frantz Fanon (1963)
ACLU of Northern California
The ACLU makes sure that Constitutional rights — to free speech, to privacy, to due process — don't just exist on paper, but also in practice. The ACLU is the first line of defense against threats to civil liberties and we work to ensure these freedoms are guaranteed to every person in this country.
ACLU of Northern California (Volunteer Opportunities)
https://www.aclunc.org/take-action
Interested in volunteering with ACLU NorCal? Check our their volunteer page!
Asian Americans Advancing Justice – Asian Law Caucus
https://www.advancingjustice-alc.org/
The mission of Asian Americans Advancing Justice – Asian Law Caucus is to promote, advance, and represent the legal and civil rights of Asian Pacific Islander communities.
ARISE High School
Our mission at ARISE is to empower our students with the knowledge, skills, and agency to become highly educated, humanizing, critically conscious, intellectual, and reflective leaders in our community. At ARISE we nurture, train, and discipline our school community to engage in a continuous practice of developing mind, heart, and body towards a vision where we actively rise up.
AYPAL
AYPAL is a leadership development, community organizing and coalition building organization that seeks to create healthy, safe, and thriving communities. AYPAL's mission is to empower Oakland's low-income Asian & Pacific Islander immigrant and refugee families to be leaders for school reform and neighborhood change.
BAY-Peace
​BAY-Peace supports and empowers Bay Area youth to transform militarism and other forms of violence. We offer a holistic youth leadership programs that integrate vocational development, artistic expression, socio-political education, community organizing, healing and personal transformation.
Californians for Justice
Californians for Justice is a statewide youth-powered organization fighting for racial justice. Californians for Justice believes that young people are the leaders we need to create the healthy, just and vibrant schools all of our communities deserve.
NAMI HelpLine
The NAMI (National Alliance of Mental Illness) HelpLine is a free, nationwide peer-support service providing information, resource referrals and support to people living with a mental health condition, their family members and caregivers, mental health providers and the public. HelpLine staff and volunteers are experienced, well-trained and able to provide guidance.
The National Network for Immigrant and Refugee Rights (NNIRR)
The National Network for Immigrant and Refugee Rights (NNIRR) works to defend and expand the rights of all immigrants and refugees, regardless of immigration status. Since its founding in 1986, the organization has drawn membership from diverse immigrant communities, and actively builds alliances with social and economic justice partners around the country. As part of a global movement for social and economic justice, NNIRR is committed to human rights as essential to securing healthy, safe and peaceful lives for all.
Oakland Kids First
https://www.oaklandkidsfirst.org/
Oakland Kids First increases youth voice, leadership, and power to create engaging and equitable public schools where all students learn and lead.
Founded in 1995 by a multi-racial coalition of youth serving community-based organizations, Oakland Kids First (OKF) trains hundreds of high-school leaders each year who work to advance safe and caring school cultures, academic success, and educational equity campaigns that center the needs of underserved Oakland students.
RAINN (Rape, Abuse & Incest National Network)
RAINN created and operates the National Sexual Assault Hotline (800.656.HOPE, online.rainn.org y rainn.org/es) in partnership with more than 1,000 local sexual assault service providers across the country and operates the DoD Safe Helpline for the Department of Defense. RAINN also carries out programs to prevent sexual violence, help survivors, and ensure that perpetrators are brought to justice.
Youth Together
Grounded in our commitment to peace, unity and justice, the mission of Youth Together is to address the root causes of educational inequities by developing multiracial youth leaders and engaging school community allies to promote positive school change.
Youth UpRising
https://www.youthuprising.org/
Youth UpRising (YU) envisions a healthy and economically robust East Oakland powered by the leadership of youth and young adults as well as improvements in systems and environments that impact them. Our primary focus is building a systems change and community economic development platform that supports and strengthens our personal transformation work.