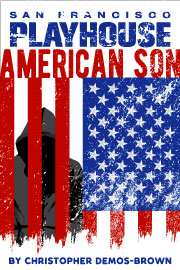 Drama
2020/21 Season
Tickets: $35 – $125
Estimated run time: TBA
Tickets now available to subscribers. Single tickets will go on sale in Summer 2020.
Call 415.677.9596 to subscribe by phone.
American Son
By Christopher Demos-Brown
"It's ticktock realism, deployed in real time" – The New York Times
PLAY DETAILS
In this gripping and unrelenting drama, an estranged bi-racial couple must confront their feelings about race and bias after their son is detained by the local police following a traffic stop incident. American Son asks us who we are as a nation, and how we deal with love, loss, and identity.
ABOUT THE PLAYWRIGHT
Christopher Demos-Brown (Playwright) made his Broadway debut with American Son. Honors for his plays include the Laurents/Hatcher Award, multiple Carbonell Awards and an American Theatre Critics' Association/Steinberg Award Citation. He and his wife, Stephanie, are cofounders of Zoetic Stage in Miami, where he also serves as the Literary Manager. He is a graduate of Dartmouth College and holds graduate degrees from the Fletcher School of Law and Diplomacy and the University of Geneva. This play is dedicated to his daughters, Kate and Jilly.
San Francisco Playhouse | 450 Post St. Floor 2M, San Francisco CA 94102 | (415) 677-9596