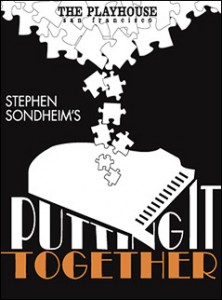 Putting it Together
By Stephen Sondheim
Previews: June 21, 22 and 23, 2006
June 24, to August 12, 2006
THE POWER OF THE UNKNOWN
Shows: Wednesday through Friday at 8 p.m., Saturdays 3 and 8p.m.
The SF Playhouse has announced that its summer show, Putting It Together by Stephen Sondheim, will open its new theatre at 533 Sutter (across the street from its current location, which is undergoing a retrofit.)
Putting It Together is a revue with a difference. A revue that tells a story. A show that covers one night and forty years and showcases over 30 of Sondheim's most memorable songs from such Tony Award-winning classics as Company, Follies and A Little Night Music. Originally produced by Cameron Mackintosh and first performed on January 27, 1992, at the Old Fire Station Theatre in Oxford it starred Diana Rigg. Later, and after edits and re-writes, it came to Manhattan in 1993, starring Julie Andrews. There was a subsequent 1998 Los Angeles production starring Carol Burnett, which went to Broadway in 1999. On Broadway, Kathie Lee Gifford replaced Carol Burnett at some performances.
Putting It Together is set at an all-night, black-tie party, where battling spouses flirt with infidelity, singing of their bittersweet loves.
Click here to see what's playing now at San Francisco Playhouse.