Working title: You Mean to Do Me Harm
Biography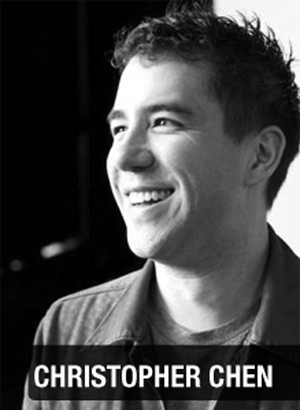 Christopher Chen is an international award-winning playwright whose full-length works have been produced and developed across the United States and abroad, including at the American Conservatory Theater, Asian American Theater Company, Bay Area Playwrights Festival, Beijing Fringe, Central Works, Crowded Fire, Cutting Ball Theater, Edinburgh Fringe, Fluid Motion, hotINK Festival, Just Theatre, Lark Play Development Center, Magic Theatre, Playwrights Foundation, Silk Road Theatre Project and Theatre Mu.
Chris is the recipient of the 2013 Paula Vogel Playwriting Award and is currently playwright in residence at The Vineyard Theatre. Other honors include: For THE HUNDRED FLOWERS PROJECT the 2012 Glickman Award, the 2012 Rella Lossy Playwriting Award, shortlisted for the 2013 James Tait Black Award, and a nomination for the Steinberg Award; for INTO THE NUMBERS 2nd Place in the Belarus Free Theater International Competition of Modern Dramaturgy and a Ford Foundation Emerging Writer of Color Grant; finalist for the Jerome Fellowship.
Chris's plays peddle in the socio-political, the psychological, the absurd and the structurally kaleidoscopic. A Bay Area native, Chris is a graduate of U.C. Berkeley and holds an M.F.A. in Playwriting from S.F. State. He currently lives in San Francisco.