Closed April 24, 2021
Click to see what's playing now
Run time: 70 minutes
Subscribe to our 2020/21 Season to see all 9 shows.
Call 415.677.9596 to buy tickets by phone.
About our ticket prices
We are committed to making our programming as accessible as possible, but are also faced with the monumental challenge of getting back to work and paying our staff and artists the wages they deserve. We are offering four price tiers this season, from $15 to $100. Please pay what you can.
SHARE THIS SHOW WITH YOUR FRIENDS:
I Was Right Here
By Julia Brothers
Directed by Padraic Lillis
Commissioned by San Francisco Playhouse
"Julia Brothers captivates! An intimate and visceral stage piece." – San Francisco Examiner
"As usual, Brothers is absolutely compelling on stage … I Was Right Here [is] a journey worth taking." – Chad Jones' Theater Dogs
"I Was Right Here is a spellbinding look into Brothers' life, expertly written and performed, with something for everyone." – The Daily Californian
PLAY DETAILS
Julia Brothers' first solo show, a San Francisco Playhouse commission, is an 70-minute ride on the rails of life. From watching RFK's funeral train pass by as a child with her father, to riding a commuter train to visit her aging mother, each stop brings a collage of memories questioning what is real, imagined or forever forgotten. Fullness and loss appear and disappear along the way, leading her to ask, What is left when memories fade or collide; when the heart sings out and the mind says no? How do we keep memories alive and how do we trust what they were to begin with? Filled with pathos and humor and directed by Padraic Lillis, Julia takes us on a journey of the heart: to discover what it is to love, lose and love again.
PHOTOS
Photos by Jessica Palopoli. Julia Brothers is a member of Actors' Equity Association.
ABOUT THE PLAYWRIGHT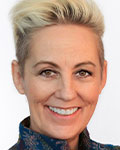 Julia Brothers is excited and honored to be back on the boards – and in front of the cameras! – with her first original work, a commission by San Francisco Playhouse, I Was Right Here, directed by Padraic Lillis. Playhouse audiences have seen Julia in Dance Nation, The Roommate, and Abigail's Party.    Julia has a passion for developing new work and has originated many roles over the last three decades. Some recent projects include A Peregrine Falls by Leegrid Stevens (dir Padraic Lillis) at The Wild Project, NYC; playing God in the world premiere of the Kilbanes' rock opera Weightless (dir Becca Wolff) at Z Space and ACT in San Francisco and at The Public Theater's Under The Radar Festival in NYC; Salesman (Workshop, Rough Draft Festival, LaGuardia Performing Arts Center, NYC) by Jeremy Tiang (dir Michael Leibenluft) in which she played Arthur Miller; and Col Sandra Eden in The Trial of Donna Caine by Walter Anderson (dir David Saint) at George Street Playhouse, NJ. Other world premieres include Broadway: Relatively Speaking – George Is Dead by Elaine May (dir John Turturro) Off-Broadway: Clever Little Lies by Joe DiPietro at Westside Arts. Regional: Women In Jeopardy at GEVA, Be Aggressive and Ambition Facing West at TheatreWorks Silicon Valley; Seagull (as adapted by Libby Appel), Magic Forest Farm, The Subject Tonight Is Love and Fortune at Marin Theatre Company, and The First Grade  and Our Practical Heaven  at Aurora, among others. Julia is an Artistic Associate at Merrimack Repertory Theatre and a company member of The B Street Theatre and SF Playground.  She was named MVP for Bay Area Theatre by the San Francisco Chronicle and has received numerous awards for performances there.  Along with her acting, Julia has performed at many NYC comedy clubs doing her stand up material and making people laugh.
San Francisco Playhouse | 450 Post St. Floor 2M, San Francisco CA 94102 | (415) 677-9596