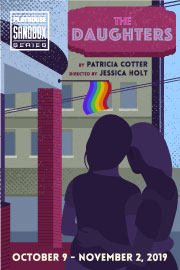 World Premiere
October 9 – November 2, 2019
Tickets: $30 – $50
Run time: TBA
TICKETS NOT YET AVAILABLE
OR CALL 415.677.9596 FOR INFORMATION.
Single tickets will be available on July 1, 2019.
The Daughters
By Patricia Cotter
Directed by Jessica Holt
Presented at the Creativity Theater
PLAY DETAILS
An essential San Francisco story, The Daughters follows the 60 year journey of a community—from the first secret meeting of the first lesbian social club in San Francisco to closing night of the last lesbian bar. As women loving women gather in defiance of convention (and the law), they drink, debate, politicize, flirt, drink more, dance hard, make out, fall in love, break up, make history, and change the way the world thinks about the multi-dimensionality of female sexuality. The Daughters is a play about the transformation of identity, gender, and sexuality across generations in the queer epicenter of the universe.
San Francisco Playhouse | 450 Post St. Floor 2M, San Francisco CA 94102 | (415) 677-9596