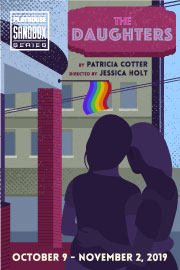 World Premiere
October 9 – November 2, 2019
Tickets: $30+
Run time: One hour, 45 minutes with one intermission.
Closed November 2, 2019
Click to see what's playing now
Call 415.677.9596 to buy tickets by phone
The Daughters
By Patricia Cotter
Directed by Jessica Holt
Venue Advisory
The Daughters
is presented at
The Creativity Theater
at Yerba Buena Gardens, 221 4th Street. Performances are
NOT
at the San Francisco Playhouse Mainstage.
PLAY DETAILS
An essential San Francisco story, The Daughters follows the 60 year journey of a community—from the first secret meeting of the first lesbian social club in San Francisco to closing night of the last lesbian bar. As women loving women gather in defiance of convention (and the law), they drink, debate, politicize, flirt, drink more, dance hard, make out, fall in love, break up, make history, and change the way the world thinks about the multi-dimensionality of female sexuality. The Daughters is a play about the transformation of identity, gender, and sexuality across generations in the queer epicenter of the universe.
THE CAST
PHOTOS
Photos by Jessica Palopoli.
THE CREATIVE TEAM
ABOUT THE PLAYWRIGHT
Patricia Cotter's awards include American Academy of Arts Letters, Richard Rodgers Award, Emmy Award, Writers Guild of America Award. Plays include: 1980 (Or Why I'm Voting For John Anderson) Chicago's Jackalope Theatre 2017, Jeff Awards nominee for Best New Play, The Surrogate, winner of the 2016 Susan Glaspell Award, finalist at the 2016 O'Neill National Playwrights Conference, produced at Centenary Stage Company, NJ, in 2017, Rules of Comedy, produced in 2015 Humana Festival of Ten-Minute Plays. The Stars Look Very Different Today was produced as part of Theatreworks 17th Annual New Works Festival, 2018. Drinking On A Plane in 2018, and The Anthropology Section in 2015both produced by The Actors Theatre of Louisville's The Tens, The Break Up Notebook (a GLAAD Award nominee). Musicals (librettist/ adaptations) include Rocket Science: A Musical, received readings at Playwrights Horizons in New York (directed by Kathleen Marshall) and was produced at The Village Theatre, Seattle; The Break-Up Notebook: A Musical (based on her play), at The Vineyard Theatre in New York. Patricia adapted The Surrogate for Kanbar Entertainment and the film is slated for a 2020 release. Patricia's most recent play; After All I Did For You is a commission from Theatre Lab at FAU as part of the Fair Play Initiative with a reading scheduled for October 2019. She is in residence as a playwright at the Playwrights Foundation in San Francisco. In addition to writing for the stage, Patricia has written for Twentieth Century Fox Television, Disney Theatrical, and Comedy Central.
*Member of Actors' Equity Association. This theater operates under an agreement with Actors' Equity Association, the Union of Professional Actors and Stage Managers in the United States.
San Francisco Playhouse | 450 Post St. Floor 2M, San Francisco CA 94102 | (415) 677-9596