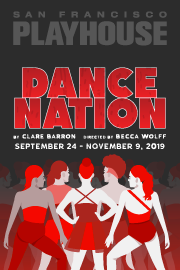 Bay Area Premiere
September 24 to November 9, 2019
Tickets: $35 – $125
Run time: TBA
OR SUBSCRIBE FROM $25/PLAY
Call 415.677.9596 to buy tickets by phone
Dance Nation
By Clare Barron
Directed by Becca Wolff
Choreography by Kimberly Richards
"A blazingly original play … marvel at how close what you see cuts to the bone" – The New York Times
PLAY DETAILS
Somewhere in America, an army of pre-teen competitive dancers plots to take over the world. And if their new routine is good enough, they'll claw their way to the top at Nationals in Tampa Bay. Winner of the 2017 Susan Smith Blackburn Prize, Dance Nation is play about ambition, growing up, and how to find our souls in the heat of it all.
PHOTOS
Photos by Donny Gilliland.
ABOUT THE PLAYWRIGHT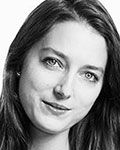 Clare Barron is a playwright and actor from Wenatchee, Washington. Her plays include You Got Older, which received its world premiere with Page 73 and will appear at Steppenwolf in 2018 (Obie Award for Playwriting, Drama Desk Nomination for Outstanding Play, Kilroys List, and Susan Smith Blackburn finalist); I'll Never Love Again (The Bushwick Starr, NYTimes & Time Out Critics' Picks); Baby Screams Miracle (Woolly Mammoth, Clubbed Thumb); and Dance Nation, which will appear at Playwrights Horizons in 2018 and won the Relentless Award established in honor of Philip Seymour Hoffman and the Susan Smith Blackburn Prize. She is also the recipient of a Whiting Award, the Page 73 Playwriting Fellowship and the Paula Vogel Award at the Vineyard.
San Francisco Playhouse | 450 Post St. Floor 2M, San Francisco CA 94102 | (415) 677-9596