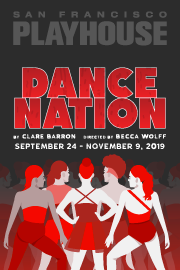 Bay Area Premiere
September 24 to November 9, 2019
Tickets: $35 – $125
Estimated run time: 1 hour, 45 minutes
Closed November 9, 2019
Click to see what's playing now
Call 415.677.9596 to buy tickets by phone
Dance Nation
By Clare Barron
Directed by Becca Wolff
Choreography by Kimberly Richards
"A hard-hitting, deeply difficult and at times revelatory glimpse into the most gut-wrenching parts of the preteen psyche." – Sam Hurwitt, Mercury News
"San Francisco Playhouse has shown exceptional professional bravery … If you are a theatregoer who champions artistic, political, and intellectual risk-taking, this would be a good time to lay your money down and support a theatre that offers exactly that." – Charles Kruger, Theatrestorm
CONTENT ADVISORY
Dance Nation contains locker room nudity, violence, profanity, and mature content.
PLAY DETAILS
Somewhere in America, an army of pre-teen competitive dancers plots to take over the world. And if their new routine is good enough, they'll claw their way to the top at Nationals in Tampa Bay. Winner of the 2017 Susan Smith Blackburn Prize, Dance Nation is a stark, unrelenting exploration of female power featuring a multigenerational cast of women portraying our 13-year-old heroines.
THE CAST
PHOTOS
Photos by Jessica Palopoli.
THE CREATIVE TEAM
ABOUT THE PLAYWRIGHT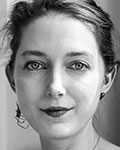 Clare Barron is a playwright and actor from Wenatchee, Washington. Her plays include Dance Nation, which was a finalist for the Pulitzer Prize for Drama, the winner of the Susan Smith Blackburn Prize, the winner of the Relentless Award, the winner of an Obie Award and received its premiere at Playwrights Horizons in New York City and subsequently at the Almeida Theatre in London and is now playing across the country and internationally; You Got Older, which received its world premiere with Page 73 and later appeared at Steppenwolf (Obie Award for Playwriting, Drama Desk Nomination for Outstanding Play, Kilroys List, and Susan Smith Blackburn finalist);  I'll Never Love Again (The Bushwick Starr, NYTimes & Time Out Critics' Picks); and Baby Screams Miracle (Woolly Mammoth, Clubbed Thumb). She is also the recipient of a Whiting Award, the Page 73 Playwriting Fellowship and the Paula Vogel Award at the Vineyard, and a former member of Youngblood and the Soho Rep Writer-Director Lab.
*Member of Actors' Equity Association. This theater operates under an agreement with Actors' Equity Association, the Union of Professional Actors and Stage Managers in the United States.
San Francisco Playhouse | 450 Post St. Floor 2M, San Francisco CA 94102 | (415) 677-9596