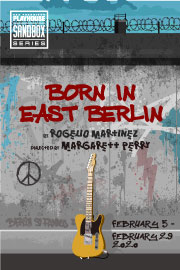 World Premiere
February 6 – February 29, 2020
Tickets: $30 – $50
Run time: Two hours. There will be one intermission.
OR SUBSCRIBE FOR $20/PLAY
Call 415.677.9596 to buy tickets by phone
Born in East Berlin
By Rogelio Martinez
Directed by Margarett Perry
Venue Advisory
Born in East Berlin
is presented at
The Creativity Theater
at Yerba Buena Gardens, 221 4th Street. Performances are
NOT
at the San Francisco Playhouse Mainstage.
PLAY DETAILS
In 1988, Bruce Springsteen played a legendary concert in East Germany and 300,000 people showed up. Born in East Berlin explores the ultimate juxtaposition between the freedom of a rock concert and the captivity of an oppressive government during the time of a great historical and cultural shift. Who will succeed and who will fail when the end of the Cold War backs up against the force of American rock and roll?
THE CAST
San Francisco Playhouse | 450 Post St. Floor 2M, San Francisco CA 94102 | (415) 677-9596