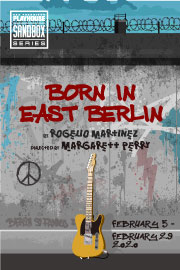 World Premiere
February 6 – February 29, 2020
Tickets: $30 – $50
Run time: Two hours. There will be one intermission.
Closed February 29, 2020
Click to see what's playing now
Call 415.677.9596 to buy tickets by phone
Born in East Berlin
By Rogelio Martinez
Directed by Margarett Perry
Venue Advisory
Born in East Berlin
is presented at
The Creativity Theater
at Yerba Buena Gardens, 221 4th Street. Performances are
NOT
at the San Francisco Playhouse Mainstage.
PLAY DETAILS
In 1988, Bruce Springsteen played a legendary concert in East Germany and 300,000 people showed up. Born in East Berlin explores the ultimate juxtaposition between the freedom of a rock concert and the captivity of an oppressive government during the time of a great historical and cultural shift. Who will succeed and who will fail when the end of the Cold War backs up against the force of American rock and roll?
THE CAST
PRODUCTION PHOTOS
Photos by Jessica Palopoli.
ABOUT THE PLAYWRIGHT

Rogelio Martinez is an award-winning playwright whose plays have been workshopped and produced in theaters across the country and abroad. Martinez was inspired to bring the Cold War itself on stage and write a three play cycle exploring the time period. The first play in his Cold War trilogy is Ping Pong. The play is about U.S.-Chinese relations during the Nixon administration. Born in East Berlin, the second play, tackles the impact a Springsteen concert had on East Germans just prior to the fall of the Berlin Wall. Martinez's play, Born In East Berlin, was workshopped by English Theater Berlin in collaboration with the Stasi Museum. This workshop will commemorate the 30th anniversary of the fall of the Berlin Wall. The trilogy's conclusion is Blind Date, which evolves around history's most enigmatic leaders—Ronald Reagan and Mikhail Gorbachev—meeting to halt the arms race. Martinez is currently writing a play/musical about the AIDS crisis and punk rock set in the Cuba of the early 1990s.
Martinez has been workshopped and commissioned by various theaters across the country including the Public Theater, Oregon Shakespeare Festival, Mark Taper Forum, South Coast Repertory, Atlantic Theater Company, Arden Theater, Asolo Repertory, and Ojai Theater Company. For several years Martinez was a member of the Dorothy Strelsin New American Writer's Group at Primary Stages. Martinez is an alumnus of New Dramatists. As an advocate of the arts and an educator, Martinez has spoken before the Albany State legislature. He has worked with and mentored writers of all ages. In addition, many of his plays have been published by Broadway Play Publishing. Martinez has written for children's television. He is currently writing scripts for an upcoming show on Nickelodeon. He is also starting work on a second children's show.
Martinez teaches graduate level playwriting at Columbia University and undergraduate playwriting at NYU. Over the last twenty years, Martinez has taught at various institutions including Rutgers University, Montclair State University, Goddard College, and City College of New York. In the summer of 2016, Martinez travelled to Portugal where he taught a two week playwriting workshop. Martinez has translated the work of both Mexican and Cuban playwrights. Martinez was born in Sancti-Spiritus, Cuba and came to this country on the Mariel boatlift in 1980.
San Francisco Playhouse | 450 Post St. Floor 2M, San Francisco CA 94102 | (415) 677-9596