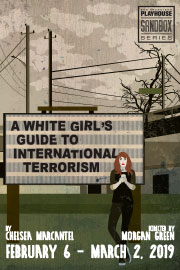 World Premiere
February 7 – March 2, 2019
Tickets: $30
Estimated run time: 2 hours with one intermission
A White Girl's Guide to International Terrorism
By Chelsea Marcantel
Directed by Morgan Green
PLAY DETAILS
Blaze is angry, and with good reason. She's getting kicked out of her mom's trailer park in the drug addled Gulf Coast of Louisiana, where part time work at the Dairy Freeze is the most she has to look forward to. That is, until her YouTube channel attracts a mysterious commenter whose words point to a brighter alternative, one that is a dangerous Google search away from unfathomable consequences. A White Girl's Guide to International Terrorism is the fictionalized epic of a hidden reality in post 9/11 America, where poverty is the battle and misinformation is the weapon.
THE CAST
PHOTOS
Photos by Jessica Palopoli.
THE CREATIVE TEAM
ABOUT THE PLAYWRIGHT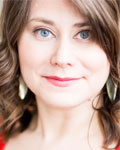 Chelsea Marcantel is an LA-based writer, director, and collaborator. Reared by Cajuns in southwest Louisiana, Chelsea has lived and made theatre among the tribes of the Midwest, Appalachia, the Mid-Atlantic, and now the West Coast. In 2016, she completed a Lila Acheson Wallace American Playwrights Fellowship at The Juilliard School. Her plays include Airness, Everything is Wonderful, Ladyish, Devour, and Tiny Houses. They have been produced around the United States and Canada (and Chelsea is vigorously working on becoming a sensation abroad as well).
San Francisco Playhouse | 450 Post St. Floor 2M, San Francisco CA 94102 | (415) 677-9596