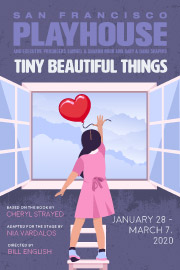 Bay Area Premiere
January 28 to March 7, 2020
Tickets: $35 – $125
Run time: TBA
OR SUBSCRIBE FROM $25/PLAY
Call 415.677.9596 to buy tickets by phone
Tiny Beautiful Things
Based on the book by Cheryl Strayed
Adapted for the stage by Nia Vardalos
Directed by Bill English
"A sustained theatrical exercise in empathy." – The New York Times
PLAY DETAILS
Based on the acclaimed book by Cheryl Strayed (author of the best-selling Wild), Tiny Beautiful Things follows Sugar, an online advice columnist who uses her personal experiences to help the real-life readers who pour their hearts out to her. Tiny Beautiful Things is a play about reaching when you're stuck, healing when you're broken, and finding the courage to take on the questions that have no answers. Tissues recommended.
ABOUT THE PLAYWRIGHT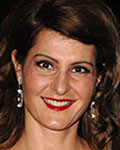 Nia Vardalos is the Academy Award and Golden Globe nominated writer and actress of such films as My Big Fat Greek Wedding, Connie and Carla, My Life in Ruins, and I Hate Valentine's Day, and co-writer with Tom Hanks of Larry Crowne. She lives in Los Angeles with her family, and donates Instant Mom proceeds to adoption charities.
San Francisco Playhouse | 450 Post St. Floor 2M, San Francisco CA 94102 | (415) 677-9596