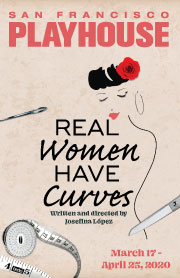 Comedy
March 17 – April 25, 2020
Tickets: $35 – $125
Estimated run time: 2 hours with one intermission.
Closed April 25, 2020
Click to see what's playing now
Call 415.677.9596 to buy tickets by phone
Real Women Have Curves
By Josefina López
Directed by Josefina López
"An entertaining story about the incredible bond that women share" – Broadway World
PLAY DETAILS
In a tiny factory in East L.A., five full-figured Latina employees work to deliver an impossible production order. As the threat of deportation and cultural pressures mount, the women must navigate issues of self-image while uniting to achieve their goals. Real Women Have Curves is a microcosm of the Latina immigrant experience that celebrates real women's bodies, the power of women, and the incredible bond that happens when women work together.
THE CAST
PHOTOS
*Member of Actors' Equity Association. Photos by Donny Gilliland.
ABOUT THE PLAYWRIGHT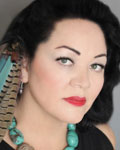 Josefina López (Writer/Director) is best known for authoring the play and co-authoring the 2002 SUNDANCE AWARD WINNING film Real Women Have Curves. Josefina started her writing career at 17 and has had over 100 productions of her many plays throughout the country.  Josefina has been working as a professional playwright since she was 18 and a Screenwriter in Hollywood for almost 30 years with countless development deals and screenplay assignments. She has worked with many established Producers like Norman Lear (All In the Family) and Michael McDonald (American Crime) to bring Latinos to television. Born in San Luis Potosi, Mexico in 1969, Josefina Lopez was five years old when she and her family migrated to the United States and settled in the East Los Angeles neighborhood of Boyle Heights.  Josefina was undocumented for thirteen years before she received Amnesty in 1987 and eventually became a U.S. Citizen in 1995. Josefina is a graduate of Columbia College Chicago,  has an MFA in Screenwriting from UCLA's School of Film & Television, and a Diplome de Cuisine from Le Cordon Bleu, Paris.
Josefina is so excited to direct the 30th anniversary production of Real Women Have Curves in San Francisco where it had its World Premiere at the Mission Cultural Center May 1990. She is grateful to the San Francisco Playhouse for this opportunity and to all the women who have acted in her play in the over 100 productions throughout the U.S. and abroad. Josefina has directed Real Women Have Curves at her theater Casa 0101 in 200 2 and 2003 and has directed for the stage and screen. In 2013 she won BEST DIRECTOR for her short film 51/50 at the Ventura Museum Latina Film Festival.
Josefina is the Founding Artistic Director of CASA 0101 Theater in Boyle Heights which is celebrating its 18th anniversary. At CASA 0101 her commitment is to present plays that celebrate women of all shapes, colors and sizes, and that shatter the myths and stereotypes of Women and Latinos. She has produced over 200 plays that have had Latinas/Latinos/LGBTQ protagonists. Josefina loves to teach playwriting and screenwriting to a new generation of Latinos and women and aspiring writers who wish to tell authentic stories not told from their perspective. She is the creator and founder of a program that teaches Latinas how to write, direct and produce called Chicana, Cholas and Chisme which has been a model to empower a new generation of Latina theater directors.
Josefina is presently developing the musical version of Real Women Have Curves for Broadway with Tony Award Winning Choreographer and Director Sergio Trujillo. Her film Real Women Have Curves has been inducted into the National Film registry and the Motion Picture Academy will be including the film in their museum which is opening October 2020. Her first novel titled Hungry Woman in Paris came out in 2009. Her two play collections Real Women Have Curves & Other Plays and Detained in the Desert and Other Plays as well as her countless books can be found on Amazon. She wrote a play to protest SB1070 titled Detained in the Desert, which she produced as a film and which won best Feature at the Los Angeles International Women's Film Festival. She is working on numerous writing projects for the stage, screen and for print including the TV version of Real Women Have Curves, Hungry Woman and Consensual Sex, and a supernatural animation film for Sony Studio. For more info about her theater www.casa0101.org and about her: www.JosefinaLopez.biz
San Francisco Playhouse | 450 Post St. Floor 2M, San Francisco CA 94102 | (415) 677-9596