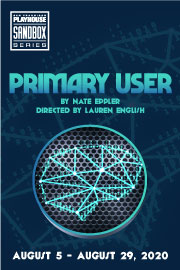 World Premiere
August 5 – August 29, 2020
Tickets: $30 – $50
Run time: TBA
TICKETS NOT YET AVAILABLE
OR CALL 415.677.9596 FOR INFORMATION.
Single tickets will be available on July 1, 2019.
Primary User
By Nate Eppler
Directed by Lauren English
Presented at Custom Made Theatre
PLAY DETAILS
Where do your posts go when you die? A cutting-edge chatbot unintentionally becomes a digital monument when one of its creators dies unexpectedly, leaving his loved ones to argue over ownership of the digital remains – and their own grief. Primary User is a millennial ghost story and an examination of disconnection and grief in the age of loneliness.
San Francisco Playhouse | 450 Post St. Floor 2M, San Francisco CA 94102 | (415) 677-9596