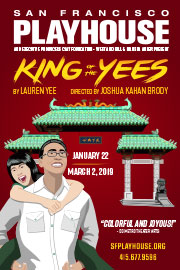 Bay Area Premiere
January 22 – March 2, 2019
Tickets: from $40
Estimated run time: 2:15 with one intermission
King of the Yees
By Lauren Yee
Directed by Joshua Kahan Brody
"King of the Yees Rules … A sense of joy and play infuses every line." – San Francisco Chronicle
"A wild ride through SF's Chinatown … The hyper-local comedy charms from the get-go." – San Francisco Examiner
"A hysterically tangled narrative that just keeps topping itself." – 48 Hills
"A resounding success … wildly imaginative, full of creativity and delicious humor." – Broadway World
PLAY DETAILS
For nearly 20 years, playwright Lauren Yee's father Larry has been a driving force in the Yee Family Association, a seemingly obsolescent Chinese American men's club formed 150 years ago in the wake of the Gold Rush. But when her father goes missing, Lauren must plunge into the rabbit hole of San Francisco Chinatown and confront a world both foreign and familiar. At once bitingly hilarious and heartbreakingly honest, King of the Yees is an epic joyride across cultural, national, and familial borders that explores what it truly means to be a Yee.
THE CAST
PHOTOS
Photos by Jessica Palopoli. *Member of Actors' Equity Association, the Union of Professional Actors and Stage Managers in the United States.
THE CREATIVE TEAM
ABOUT THE PLAYWRIGHT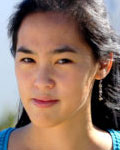 Lauren Yee is a playwright born and raised in San Francisco. She currently lives in New York City. She received her bachelor's degree from Yale University, and her MFA in playwriting from UCSD, where she studied under Naomi Iizuka. Lauren Yee's play KING OF THE YEES premiered at The Goodman Theatre and Center Theatre Group, followed by productions at ACT Theatre and Canada's National Arts Centre. This season, her work includes THE GREAT LEAP (Denver Center, Seattle Rep, and Atlantic Theatre Company) and CAMBODIAN ROCK BAND (South Coast Rep). Other plays include CHING CHONG CHINAMAN (Pan Asian, Mu Performing Arts), THE HATMAKER'S WIFE (Playwrights Realm, Moxie, PlayPenn), HOOKMAN (Encore, Company One), IN A WORD (SF Playhouse, Cleveland Public, Strawdog), SAMSARA (Victory Gardens, O'Neill Conference, Bay Area Playwrights Festival), and THE TIGER AMONG US (MAP Fund, Mu).
San Francisco Playhouse's production of King of the Yees is made possible by executive producers Clay Foundation – West, and William & Marsha Adler; producers Margaret Sheehan, Betty & Clifford Nakamoto, Geoffrey Jue Cynthia & David Bogolub, and Phyllis & Jerry Rosenberg; associate producers Linda Brewer and Margot Golding.
San Francisco Playhouse | 450 Post St. Floor 2M, San Francisco CA 94102 | (415) 677-9596