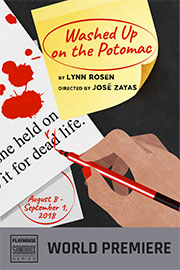 Sandbox Series World Premiere
August 8 – September 1, 2018
Tickets: $30
Run time: 1 hour, 40 minutes
<
OR CALL 415.677.9596 FOR MORE INFORMATION.
Audience (51 Reviews) 4.11
Washed Up on the Potomac
Written by Lynn Rosen
Directed by José Zayas
Presented at The Custom Made Theatre
PLAY DETAILS
Order is the name of the game in this D.C. proofreading office, but everything is a bit off today. It's ninety degrees in October, a costly mistake has been made on an important account, and someone is going to get fired. As three proofreaders ponder their futures, they become haunted and inspired by memories of a coworker whose body may have washed up on the banks of the Potomac today. Who will be the next to go? Or are they already gone?
THE CAST
PHOTOS
*Member of Actors' Equity Association, the Union of Professional Actors and Stage Managers.
THE CREATIVE TEAM
ABOUT THE PLAYWRIGHT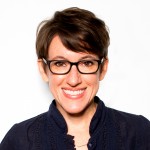 Lynn Rosen (Playwright) Lynn's plays have been produced or developed with: TheatreWorks Silicon Valley, Rivendell Theatre Ensemble, Actors Theatre of Louisville, New Georges, UC Santa Barbara's Launch Pad (commission/production), Women's Project, Ensemble Studio Theatre (three EST/Sloan New Play Commissions), The Pool, Centerstage – Baltimore, Studio Theatre, Red Bull Theater, Working Theater, Barrington Stage, SPACE on Ryder Farm, The New Group, The Lark (Writing Fellow), terraNOVA Collective, New Harmony Project (Writer in Residence 2017), GEVA, Fault Line, The Brick, The 52nd Street Project, among others. Lynn cowrites/co-created the award-winning web series Darwin, directed by Emmywinner Carrie Preston, which was named one of the "Top Ten Best Web Series of 2015" by Paste Magazine. Most recently: Lynn's short play, I Love You, was recorded for Playing On Air, starring Bill Irwin and Steven Boyer, directed by David Auburn; Washed Up On The Potomac, produced by Lynn's playwrightdriven theatre company The Pool @ The Flea, NYC, directed by José Zayas; development of her farce The Imperialists with New Dramatists and New Neighborhood, directed by Christian Parker. Current Commissions: Gurley! A musical about Helen Gurley Brown and Betty Friedan, developed with rock duo, The Kilbanes, TheatreWorks Silicon Valley commission; Chasing Totality, an exploration of the space race, EST/Sloan Commission with director/producer Kay Matschullat; The Claudias – A Revenge Play, Red Bull Theatre commission; Legerdemain, developed with director Julie Kramer, Audrey Residency/New Georges. Lynn grew up in Gary, Indiana, has a BA in Theater Arts from Brandeis University, and resides in NYC. She is a Resident Playwright at New Dramatists.
San Francisco Playhouse's production of Washed Up on the Potomac is made possible by Sandbox Series Producer Rowland Weinstein; Producer Sandra Hess; and Associate Producers Karla Jones, Barbara & Saul Rockman and Tappan Wilder.
ABOUT THE VENUE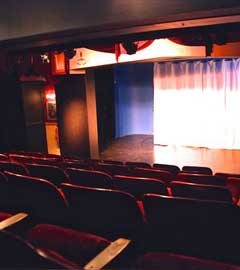 The Custom Made Theater is located in the heart of the Theater District just one block north of Union Square at 533 Sutter St, Second Floor. The 99-seat proscenium theater is a premiere independent venue in San Francisco and the former home of SF Playhouse.
The Custom Made Theater does not have a dedicated parking lot but is walking distance from the Powell Street BART/MUNI station as well as the Geary and Sutter Buses.
The Custom Made Theater | 533 Sutter St, San Francisco, CA 94102 | (415) 798-2682