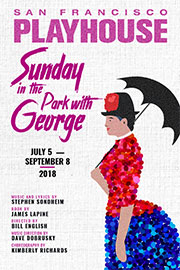 Musical Revival
July 5 to September 8, 2018
Tickets: From $45
Estimated run time: 2 hours, 30 minutes
OR CALL 415.677.9596 FOR TICKETS AND INFO.
Audience (561 Reviews) 4.48
Sunday in the Park with George
Music and Lyrics by Stephen Sondheim
Book by James Lapine
Directed by Bill English
Music Direction by Dave Dobrusky
Choreography by Kimberly Richards
"Inspired! Sunday  proves to be an excellent choice in artistic director Bill English's beautifully realized production." – Mercury News
"Once again, SF Playhouse proves its mettle … this one is as professional and polished a production as you'll ever see." – 7×7
"San Francisco Playhouse demonstrates a vaulting ambition and clears an extraordinarily high bar." – Bay Area Reporter
PLAY DETAILS
In the final days before the completion of his masterpiece, A Sunday Afternoon on the Island of La Grande Jatte, Georges Seurat is torn between making meaningful art and maintaining a relationship with his lover, Dot. One of the most acclaimed musicals of our time, Sunday in the Park with George won the Pulitzer Prize and was nominated for 10 Tony Awards including Best Musical.
PHOTOS
*Member of Actors' Equity Association, the Union of Professional Actors and Stage Managers. Photos by Ken Levin.
San Francisco Playhouse
450 Post St., San Francisco CA 94102 | Box Office: 415.677.9596 | Map and Directions
THE CAST
THE CREATIVE TEAM
ABOUT THE CREATORS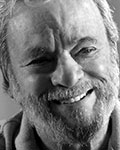 Stephen Sondheim (Music and Lyrics) wrote the music and lyrics for Saturday Night (1954), A Funny Thing Happened on the way to the Forum (1962), Anyone Can Whistle (1964), Company (1970), Follies (1971), A Little Night Music (1973), The Frogs (1974), Pacific Overtures (1976), Sweeney Todd (1979), Merrily We Roll Along (1981), Sunday in the Park with George (1984), Assassins (1991), Passion (1994) and Road Show (2008) as well as lyrics for West Side Story (1957), Gypsy (1959) and Do I Hear a Waltz? (1965) and additional lyrics for Candide (1973). Anthologies of his work include Side By Side with Sondheim (1976), Marry Me a Little (1981), You're Gonna Love Tomorrow (1983), Putting it Together (1993/99) and Sondheim on Sondheim (2010). He composed the scores of the films "Stavisky" (1974) and "Reds" (1981) and songs for "Dick Tracy" (1990) and the television production "Evening Primrose" (1966). His collected lyrics with attendant essays have been published in two volumes: "Finishing the Hat" (2010) and "Look, I Made A Hat" (2011). In 2010 the Broadway theatre formerly known as Henry Miller's Theatre was renamed in his honor.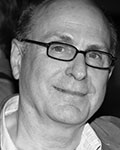 James Lapine (Book) has also worked with Stephen Sondheim on Passion as well as the recent Broadway show, Sondheim on Sondheim. He also directed the first revival of Merrily We Roll Along at LaJolla Playhouse in 1985. With William Finn he has collaborated on Falsettos, A New Brain, 25th Annual Putnam County Spelling Bee, and the soon to be produced Little Miss Sunshine. Other Broadway credits: The Diary of Anne Frank, Golden Child, and Amour. He has written the plays: Table Settings; Twelve Dreams; Luck, Pluck & Virtue; The Moment When; Fran's Bed; and Mrs. Miller Does Her Thing.
San Francisco Playhouse's production of Sunday in the Park with George is made possible by Executive Producer Robert Hulteng; Producers Bill and Marsha Adler, Associate Producers Muffy Barkocy & John Merlino, Geoff Jue, Rowland Weinstein, Cliff and Betty Nakamoto; and Artistic Underwriter Marcy Taylor Pattinson.