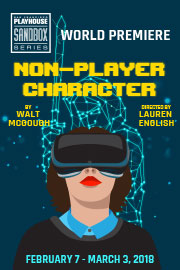 Sandbox Series World Premiere
February 7 – March 3, 2018
Tickets: Available in June 2017
Run time: 1 hour, 45 minutes including one intermission
OR CALL 415.677.9596 FOR TICKETS AND INFO.
Non-Player Character
Written by Walt McGough
Directed by Lauren English

"Video games and theater an even match-up in Non-Player character." – San Francisco Chronicle
"Uninitiated or not, you're likely to find Walt McGough's Non-Player Character funny and harrowing." – San Francisco Examiner
PLAY DETAILS
Aspiring video game designer Katja and her longtime friend Trent are an unstoppable team against animated monsters in the virtual underworlds of SpearLight, an online role-playing game. But after a humiliating falling-out, Trent marshals an army of internet trolls to wage real-life war against her. Comic and poignant, Non-Player Character is a timely, boldly theatrical exploration of the games we play and who's winning.
THE CAST
PHOTOS
Photos by Jessica Palopoli. *Appears courtesy of Actors' Equity Association.
ABOUT THE PLAYWRIGHT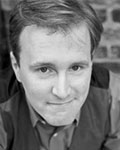 Walt McGough is a Boston-based playwright (by way of Pittsburgh and Chicago). In Boston, he has held fellowships with both the Huntington and New Repertory Theatre Companies, and was a finalist for the 2016 Dramatists Guild Lanford Wilson Award. His plays include PATTERN OF LIFE, which was named Best New Play by the Independent Reviewers of New England, and THE FARM, PRISCILLA DREAMS THE ANSWER, and PAPER CITY PHOENIX, all of which received Best New Play IRNE nominations. Other plays include CHALK, DANTE DIES!! (AND THEN THINGS GET WEIRD), THE HABERDASHER!, and NON-PLAYER CHARACTER. He has worked around the country with companies such as The Lark, the Huntington, New Rep, the Kennedy Center, NNPN, Boston Playwrights Theatre, Fresh Ink, Sideshow, Orfeo Group, Nu Sass Productions, Chicago Dramatists, and Argos. In 2015, his play ADVICE FOR ASTRONAUTS was selected as the winner of the Milken Playwriting Prize. He serves on the staff at SpeakEasy Stage Company in Boston, and was previously the company manager at Chicago Dramatists. He holds a BA from the University of Virginia, and an MFA in playwriting from Boston University.
San Francisco Playhouse's production of Non-Player Character is made possible by Sandbox Series Producer Rowland Weinstein, Executive Producer The Sheri and Les Biller Family Foundation, Producers Ellen & Bruce Hall, and Associate Producers William and Terilyn Voegtle
ABOUT THE VENUE
The Creativity Theater is a 183+ seat proscenium theater located in the SoMa neighborhood. The theater is connected to the Children's Creativity Museum at 221 Fourth Street in downtown San Francisco (on the corner of Fourth and Howard across the street from the Metreon).
The Creativity Theater does not have a dedicated parking lot however, there are a number of conveniently located public garages. Both the Moscone Center Garage and the Fifth and Mission/Yerba Buena Parking Garage are less than two blocks away. The theater is also located three blocks south of the Powell Street Station for easy access to both BART and MUNI.
The Creativity Theater | 221 Fourth Street, San Francisco CA 94103 | (415) 820-3320