1 2 3
a play about abandonment and ballroom dancing
Sandbox Series World Premiere
Written by Lila Rose Kaplan
Directed by Lauren English
Note: All performances of 1 2 3 will be held at 533 Sutter St.

When their radical parents are imprisoned for domestic terrorism, sisters 1, 2, and 3 are sent to live with different foster families. 1 loses herself in history, 2 dances, and 3 captures all of it—and more—on video. But will they be able to hold together when Mom is released from prison?
1 2 3
is a dark, funny drama about a rift between sisters and what it takes to grow up.
Read the Press Release
.
San Francisco Playhouse's production of 1 2 3 is made possible by Executive Season Producer Rowland Weinstein, Season Producers Robert & Jan Ginsberg, and Associate Producers Joan Eckart, Paul Romeo & Lynn Stark, and Marcy Taylor Pattinson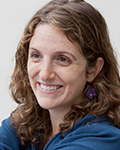 Lila Rose Kaplan writes heartfelt comedies, bittersweet dramas, and musicals for young people. Her plays include Home of the Brave, Wildflower, The Magician's Daughter, 1 2 3, The Light Princess, We All Fall Down, Bureau of Missing Persons, and Tink. Productions include: A.R.T., New Victory Theatre, Perishable Theatre, Know Theatre, Chalk Rep, Fresh Ink, Launch Pad, Second Stage, and La Jolla Playhouse/Moving Arts. Development includes: Huntington Theatre, Arena Stage, Kennedy Center, EST, Center Theatre Group, Theatreworks, PlayPenn, and The Lark. Honors include: National Science Award in Playwriting, International Women's Playwriting Award, Old Vic/New Voices Exchange, and Playwrights' Realm Writing Fellows. Playwright Residencies include: Cornerstone Theatre Company, Harvard Business School, and the Kavli Institute for Theoretical Physics. BA: Brown University. MFA: UC San Diego. Upcoming productions in 2015-16 at A.R.T, Merrimack Rep, and South Coast Rep. Lila Rose lives in Cambridge with her marine biologist, her two cats and her brand new daughter. www.lilarose.org

Photos by Lauren English and Fei Cai.
To download high-resolution versions of these photos, click here
Jeremy Kahn*, Jessica Bates* and Tristan Cunningham*
Devin Shacket and Jessica Bates*
Jeremy Kahn* and Tristan Cunningham*
Tristan Cunningham*, Devin Shacket and Jessica Bates*
Jeremy Kahn*, Tristan Cunningham*, and Jeremy Kahn*
Devin Shacket
*Member of AEA.

*Member of AEA.

Director

Set Designer/Projection Designer

Production Manager/Lighting Designer

Sound Designer

Costume Designer

Stage Manager

Choreographer

Props Designer

Assistant Lighting Designer

Dramaturgy/Assistant Sound Designer
*Member of AEA.










[efb_likebox fanpage_url="SFPlayhouse" box_width="250″ box_height="" colorscheme="light" locale="en_US" responsive="0″ show_faces="1″ show_header="0″ show_stream="0″ show_border="0″ ]