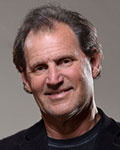 Every world premiere arrives at our stage via its own unique path. An Entomologist's Love Story began when Melissa Ross won an Alfred P. Sloan Foundation grant to create a play about the lives of scientists. She went to work as an intern at the Museum of Natural History in New York City, immersing herself in the work lives of a team of entomologists—and out of that experience, the play you will see today was born. One can almost smell the formaldehyde drifting through the theatre, her understanding of these specialists' work is so detailed and reverent.
Move forward several years to the Theatreworks New Works Festival, where Entomologist received a workshop with music stand performances and the play met up with Giovanna Sardelli, the director of that program. Giovanna has been with the project ever since. As some of you will recall (especially Scott Walecka, Steven and Karin Chase and Bill and Marsha Adler), I was soon besieged in our Inner Circle Lounge with gushing praise for the script from many who had seen the workshop in Palo Alto. "OMG, you MUST do this play!!!!!!" I got a copy from Melissa's agent and immediately fell in love.
What galvanized my attention besides the hilarious, muscular language and the palpable, gritty truth captured by Melissa's first-hand experience in the museum, was the parallel Melissa has drawn between the scientists who study the mating rituals of insects and our window onto the mating rituals of the scientists themselves. Informed by the sexual politics of today, we find ourselves giddy with glee or wincing at the murderous power of the female praying mantis, or lifted up by the glorious beauty of fireflies as they mate. How do these insects inform the loss and rage of a brilliant female scientist as she fears she will have to dumb herself down to find a male partner?
We are familiar with the symbiosis of many insects and other animals who are often literally stuck together in a destructive mating dance, but we humans also get stuck in symbiotic relationships that hamper our need for the freedom to find more mutually satisfying lives. We get stuck in relationships with our parents, with friends, with former lovers, and in order to really live, we have to break free. We have to let go of the destructive security these relationships offer and strike out bravely into the unknown. What a joy to watch as our entomologists struggle to break out of their own cocoons and fly!
The following two tabs change content below.

Bill English is Artistic Director and Co-Founder of San Francisco Playhouse, and in twenty years with Susi Damilano, has guided its growth from a bare-bones storefront to the second-largest theater in San Francisco.

Latest posts by Bill English (see all)