My father, William English, senior to my junior, had high hopes for me – his namesake. In his imagination, I would simultaneously play first base for the Cubs and sit first chair oboe in the Chicago Symphony. He was a dedicated father, and I was an ambitious kid who wanted more than anything to please him.
I walked miles into the North Shore wind to my oboe teacher who had played with the Chicago Symphony, sharpened my knife to the hair-splitting-level that could make oboe reeds, and practiced scales and arpeggios endlessly.  I chalked up a strike zone on the back of the First National Bank building behind our house and threw thousands of curves and batted thousands of tennis balls (they didn't break windows) up over the houses on our street.

My dad had been the band director at our high school, and although he had moved on to teaching college by the time I arrived, he had high expectations for my oboist career in his former band. So, I approached my first audition as a high school freshman with apprehension and anxiety. I worried – no, I believed with certainty – that I would fail. That I would not make the orchestra cut and would be relegated to the junior varsity orchestra, an ignominious fate.
I was completely shocked when, after tryouts, on the list published outside the door of our practice hall, I read my name as the designated first chair!  And though I was elated for myself, I was even more overjoyed for my Dad, whom I assumed would be very pleased with my accomplishment. I had not failed him, after all.  I ran home and paced about the house with eager anticipation until he finally arrived, and I enthusiastically announced my appointment as first oboe chair.  "Well . . ."  he said with a portentous pause. "That's all well and good." Another pause. "But I think you should be careful not to be satisfied too easily. Simply being first chair in the high school orchestra will never be good enough to get you into the Chicago Symphony."
His words crushed me. I had cut my fingers up making hundreds of reeds. I had practiced the oboe until my lips were raw and swollen, and my lungs were winded and hyperventilating from holding in so much air. But in my father's estimation, I wasn't good enough.  I feared I couldn't do any better – that I would never be good enough in his eyes. To a child, even a teenager, a parent's withholding of approval can feel like utter annihilation.  And on that day, despite having achieved the distinction of first chair as a mere freshman, I felt annihilated.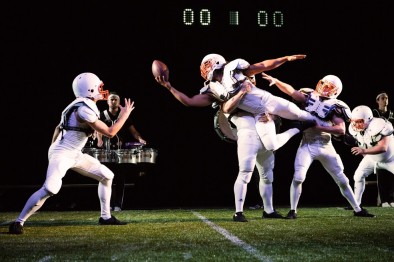 I was reminded of this moment from my youth recently when San Francisco Playhouse tackled an incredibly ambitious piece, Colossal – a play that required the improbable merging of football with modern dance. Described by its playwright as "unproduceable," it required dance and fight choreographers, a drum corps and composer/musical director, marching band and football advisors, and a director who could integrate it all seamlessly and navigate this tricky terrain. We auditioned over forty young men to select an ensemble of six who could both play football and dance. We hired a team of brilliant videographers to create a scoreboard that appeared to flawlessly count down the minutes from 15:00 to 00:00 but could be slowed down or sped up so that each quarter of the play ended precisely at time 00:00, no matter how much time for the dialogue and action had actually elapsed.
We in the theatre pour our heart, soul, blood, sweat, and tears into every show, but this one felt more like a Herculean undertaking than usual. And yet, despite all our creative efforts and hard work, Colossal received a mediocre review from an unimpressed critic in the major San Francisco newspaper, which, like the New York Times, is the most important factor affecting public opinion and ticket sales. Like my father had before him, the critic – a man whose opinion I respect and admire – had decreed that it was "not good enough."
Sometimes, it only takes one failure in a long line of hits to trigger the never-good-enough insecurity. Fortunately, as adults, we have greater resources to overcome this than when we were children. We have all our collaborators, the forty or more people who poured their own souls into the show, who we can look in each other's eyes and affirm that we did our best. And we also have our community – our theatre patrons, subscribers, and donors – who greet us in the lobby, who rise to their feet after each performance, who write notes of praise, who trust us and our taste and our dedication. Their very presence and encouragement reassures us that we are, in fact, "good enough."
But I think our greatest power to defeat the "never good enough" voice is learning to accept that failure, inevitably, will happen. As one of my favorite theatre directors always said, "Fail big!" And so, what is it that we fear so much about failure? Are we annihilated by a theatrical failure? We are not putting a human into orbit. Our biological survival is not in question. I am not suggesting that we should be content with failure or that a bad review alone constitutes failure. Although, as many of my artistic director colleagues can attest, a "sitting man" review in the paper can deliver a blow to the gut that feels like crushing failure.
Yet, despite all of our efforts, some of our plays will not succeed. They will suffer not only mediocre reviews, but also poor attendance. But will we perish as a result? No. Despite our childhood programming to the contrary, we will survive to try again, learning from our mistakes. We will move on and pour our hearts and souls into the next project.
Children might equate disapproval with annihilation. They are defenseless against the power of well-meaning parental approval.  We carry that programming with us into adulthood.  But as adults in the theatre, we can look failure square in the eye and, in a way, welcome him in.  Let him sit beside us in rehearsal, make him our friend, invite him to tea. And he can talk us down from the annihilation complex.  So that when the "never good enough" voice whispers in our ear, we can simply smile and dismiss it as a invaluable reminder to force ourselves to rely on our own sense of worth and our understanding that there is life beyond bad reviews. Our mantra can become, "Yes, I am good enough" despite the certainty that I will fail big, again and again.
As always, I'd love to hear your thoughts. Please feel free to leave your comments below.
Best,

Bill
The following two tabs change content below.
Latest posts by San Francisco Playhouse (see all)