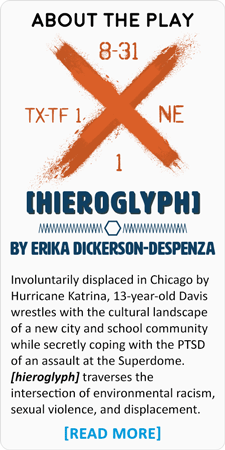 WHEN
Wednesday, March 17 at 6:30 P.M. PST
WHAT
Watch a live pre-show panel with the cast and creative team behind [hieroglyph], followed by a screening of the play.
Erika Dickerson-Despenza's [hieroglyph] is a fully staged production, filmed on stage at San Francisco Playhouse with three cameras and presented as a video stream. The play is an examination of the scars that Hurricane Katrina left on the most vulnerable members of our community. The production will break down walls and spark essential conversations about the effects of disaster, displacement, and the failure of systems to protect those in need.
WHY
Our theater is an Empathy Gym where we come to practice our powers of compassion. And through these virtual events, we can bring the Empathy Gym to you. From the comfort of our own homes, we can risk sharing in the lives of the characters. We feel what they feel, fear what they fear, and love what they love. And as we leave this virtual space we shared, we take with us greater powers of understanding to make our community a better place, one play at a time. We believe that engaging in the shared experience of theatre can impact your whole team by bringing people together, allowing for the examination of points of view different from your own, and igniting a conversation that extends beyond the event itself. And [hieroglyph] offers the opportunity to do exactly that.
This play is the second installment of a 10-play Katrina Cycle. Taking up epic space, these plays traverse the Black Katrina diaspora in an examination of the ongoing effects of displacement rippling in & beyond New Orleans. Together, the ten works underscore colonialism, environmental racism & the erasure of Black land legacies through the distress of disaster, evacuation, displacement & urban renewal.
Content advisory: [hieroglyph] contains depictions of violence and sexual assault. Discretion is advised.
PRICE
$500 per group (no limit to number of attendees). Note: Packages may be available for smaller groups at a lower price point.
HOW IT WORKS
Contact Tiiu Eva Rebane at

[email protected]

 or call 415.677.9596 (1:00 – 6:00 PM PST or leave a voicemail)
We'll send you a private web link and password to access the event.
Share the link and password with the members of your group. There is no limit to the number of people who can access the event.
The pre-show event will begin at 6:30. Use the live chat function to discuss the play live with your friends!
The show will begin promptly at 7:00 P.M. PST. The show runs approximately 90 minutes with one intermission. Enjoy and discuss with your group in the chat box.
After the show, we'll send you an email with some food for discussion.