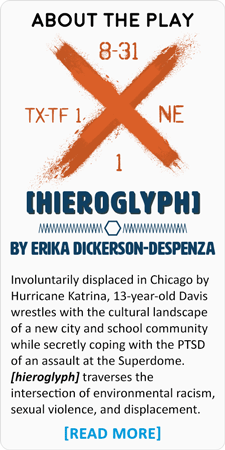 SHARING RESOURCES
Our co-production of [hieroglyph]by Erika Dickerson-Despenza is about the trauma of Hurricane Katrina and of the horrors perpetrated on so many women in New Orleans and around the world. This play is the second installment of a 10-play Katrina Cycle. Taking up epic space, these plays traverse the Black Katrina diaspora in an examination of the ongoing effects of displacement rippling in & beyond New Orleans. Together, the ten works underscore colonialism, environmental racism & the erasure of Black land legacies through the distress of disaster, evacuation, displacement & urban renewal.
We understand that the content of the play might be triggering to some people and we want to make sure to offer resources that can help support you. We also want to offer additional resources for those feeling compelled to help and support. Please find some suggestions below.
RAINN (Rape, Abuse & Incest National Network)
RAINN created and operates the National Sexual Assault Hotline (800.656.HOPE, online.rainn.org y rainn.org/es) in partnership with more than 1,000 local sexual assault service providers across the country and operates the DoD Safe Helpline for the Department of Defense. RAINN also carries out programs to prevent sexual violence, help survivors, and ensure that perpetrators are brought to justice.
Direct Relief
With Hurricane Katrina as a catalyst, Direct Relief grew to become the largest and only nonprofit program of its kind to distribute donated medical supplies and medicines free of charge to community clinics and health centers in all 50 U.S. states, serving low-income and uninsured people. Direct Relief continues to provide ongoing assistance of medical aid to clinics, health centers, and social-service agencies across the U.S. through its Safety Net Inventory Support Program. In the Gulf states, where strong relationships were built during the Katrina response, more than $85 million in medical aid has been provided to 200-plus facilities since 2005. Companies across the country have stepped forward with resources to support this talented network of providers reaching millions of patients.
International Rescue Committee
The International Rescue Committee responds to the world's worst humanitarian crises and helps people whose lives and livelihoods are shattered by conflict and disaster to survive, recover and gain control of their future. In more than 40 countries and over 20 U.S. cities, our dedicated teams provide clean water, shelter, health care, education and empowerment support to refugees and displaced people.
AmeriCares
AmeriCares responds to an average of 30 natural disasters and humanitarian crises worldwide each year, establishes long-term recovery projects and brings disaster preparedness programs to vulnerable communities. Donations to AmeriCares U.S. Disaster Relief Fund will support its response to the storms.
New Orleans Family Justice Center
The Family Justice Center provides a range of free services to survivors of domestic violence, sexual assault, stalking, human trafficking and child abuse in the Greater New Orleans area. Our services are trauma-informed and non-judgmental. We welcome survivors at any point in their process.
Baton Rouge Area Foundation
After Katrina hit, officials from the Baton Rouge Area Foundation, Louisiana's largest community foundation, spent a futile 24 hours trying to contact federal and state officials for advice on how to cope with the growing number of people driven from their homes by the storm. Their efforts were indispensable in activating support for everyone affected by Hurricane Katrina. Created in 1964, the Foundation has one simple goal: to help philanthropists pursue their causes for bettering the lives of the people of South Louisiana.
New Orleans Youth Alliance
https://www.neworleansyouthalliance.org/
The New Orleans Youth Alliance (NOYA) is the youth development intermediary for the Greater New Orleans area. NOYA works to cultivate a system of high-quality, well-resourced youth development organizations that center youth leadership and racial equity in their work with young people. NOYA achieves its mission through three key areas of service: program quality and professional development, policy and advocacy, and organizational effectiveness.
The Orchid Society
http://www.theorchidsociety.org/
The Orchid Society is a young professional network of African American women serving as positive role models for young minority girls in the New Orleans metro area through mentoring, community service and social awareness programming. Through our events and initiatives, we hope to empower our community so that our mentees can begin empowering their peers. The Orchid Society believes that it begins with the leaders of today to shape the future for leaders of tomorrow.
Illinois Coalition Against Sexual Assault
The Illinois Coalition Against Sexual Assault (ICASA) is a unified network of rape crisis centers, envisioning a world free of sexual violence. ICASA is a not-for-profit corporation of 30 community-based sexual assault crisis centers working together to end sexual violence. Each center provides 24-hour crisis intervention services, counseling and advocacy for victims of sexual assault and their significant others. Each center presents prevention education programs in Illinois schools and communities.
Prevent Child Abuse America
https://preventchildabuse.org/
Founded in 1972, Prevent Child Abuse America is the leading organization working at the national, state and local levels to prevent the abuse and neglect of our nation's children. By valuing children, strengthening families and engaging communities, it works to prevent child abuse and neglect before it starts. Headquartered in Chicago, Prevent Child Abuse America is widely known for its public awareness campaigns, prevention programs, advocacy efforts and research.
Black United Fund of Illinois
The goal of the Black United Fund of Illinois is to support organizations that have the demonstrated ability or potential to: advance economic development in the African American community; develop effective educational programs for youth and improve education in the public schools; preserve African American history and advance creative work in the performing, literary, and visual arts; offer health and social services to the community, especially services designed to improve the quality of life for African American families; respond to community needs and empower people to eliminate root causes of deprivation rather than just treat symptoms; engage in independent research, where required, to determine needs and to evaluate the quality of life in the African American community.