Working Title of Commission:
Pluto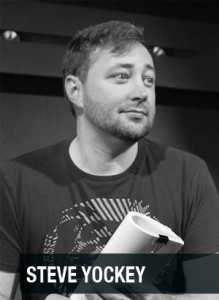 Description: In the immediate wake of a local tragedy, single mother Elizabeth Miller and her son Bailey, a strange young man she never imagined, try to jump—start their relationship across the breakfast table in a world turned upside down. They only have this small bit of time to reconnect as Elizabeth also contends with berserker appliances, shifting astronomical definitions, the odd new family pet, and the noisy forces threatening to invade her kitchen. But sometimes love stops us from really "seeing" the people we need to see most.
 
Biography
Steve Yockey is a roaming member of Out of Hand Theater. His projects with the company includeHELP! and Cartoon. His work has been produced throughout the country and in Asia. In 2008, Actor's Express in Atlanta, GA presented the world premiere of Octopus followed by an extended run in San Francisco, co-produced by Encore Theatre Company and Magic Theatre. In 2009 Dad's Garage and Berkeley's Impact Theatre produced the co-world premiere of Large Animal Games and in 2011 Impact rolled out the dark comedy Disassembly directed by Desdemona Chiang. Large Animal Games, Octopus, Cartoon and subculture (collected short plays) are published & available from Samuel French. Steve's play afterlife: a ghost story co-world premiered in the 2010—2011 season at Southern Rep (New Orleans) and New Rep (Boston). This season: Heavier than… premiered at the Boston Court in Pasadena and Bellwether premiered at Marin Theatre Company in Mill Valley, CA. Other plays include:Wonder, Wolves and Feverish. Steve is a Phi Beta Kappa, Summa Cum Laude graduate of the University of Georgia and holds an MFA in Dramatic Writing from NYU's Tisch School of the Arts (2008). After completing a yearlong National New Play Network residency at Marin Theatre Company, Steve now lives in Los Angeles, CA where he is a member of Center Theatre Group's 2011—2012 writers group and works as the creator and Co-Executive Producer on the new Sony Pictures Television projectTeeth.