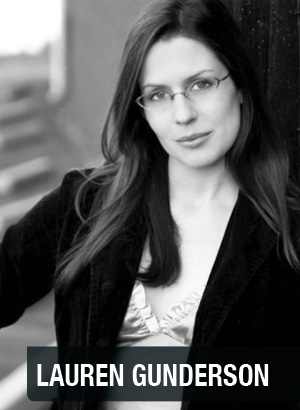 Subject of commission: Bauer
Description: The true story of once-prominent non-objective artist Rudolf Bauer.  The incredible life of the man whose work the Guggenheim Museum in NY was built to house, who fiery lifelong love affair with Guggenheim curator Hilla Rebay lasted decades, whose imprisonment by the Nazis didn't stop him from sketching on scraps, and whose legacy was threatened by the deepest betrayal. Why did the genius who survived all that suddenly stop painting? This is a shocking and moving untold story of powerful art, powerful passion, and just as powerful downfall. In this case life really is art.
This commission is also sponsored in part by Theatre Bay Area.
Biography
Lauren is a playwright, screenwriter and short story author. She received her MFA in Dramatic Writing at NYU Tisch, is a Reynolds Fellow in Social Entrepreneurship. She is currently on commission with The Kennedy Center, South Coast Rep, SF Playhouse and is developing a musical with Harry Connick Jr. and John Rando. Her upcoming 3-city rolling world premiere of Exit, Pursued By A Bear starts in Atlanta in March 2011.
Her work has received national praise and awards including the Berrilla Kerr Award for American Theatre, Global Age Project, Young Playwright's Award, Eric Bentley New Play Award and Essential Theatre Prize. Her science-history play Emilie: Le Marquise Du Chatelet Defends Her Tonight premiered at South Coast Rep in 2009, now published by Samuel French. Fire Work was developed at The O'Neill National Playwrights Conference Summer 2009, and will be developed at Aurora Theatre's Global Age Project.She has been produced off and off-off Broadway, as well as regionally. She has been commissioned by The Alliance Theatre's Collision Project, Marin Theatre Company, Actors Express Theatre, Dad's Garage Theatre, Theatrical Outfit, City University of New York and Synchronicity Performance Group. Leap was published with Theatre Emory's Playwriting Center (2004), and her first collection of plays, Deepen The Mystery: Science and the South Onstage, is published with iUniverse (2006). She has developed plays with Second Stage and Primary Stages in NYC, New Rep in Boston, Playwrights Foundation, Crowded Fire, and The Magic Theatre in San Francisco, Kitchen Dog Theatre in Dallas, Actor Express and Horizon Theatre in Atlanta, JAW/West in Portland, WORDBridge, Brave New Works, and others. She received a Sloan Science Script Award (2008) for her screenplay Grand Unification. Leap was published with Theatre Emory's Playwriting Center (2004), and her short story, The Ascending Life, won the Norembega Short Fiction Award and was published in the anthology, The Shape of Content; her science play Background was published in ISOTOPE: A Journal of Nature and Science Writing. Her string theory poem "Hook of a Number" was published in the anthology Riffing On Strings. She has spoken nationally and internationally on the intersection of science and theatre and Arts Activism.  She is a member of Just Theatre's New Play Lab. She writes for The Huffington Post and tweets  @LalaTellsAStory