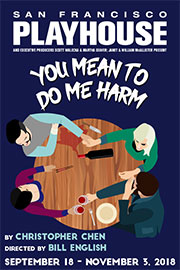 World Premiere
September 18 – November 3, 2018
Tickets: from $25
Under-30 tickets: 50% off
Run time: 1 hr, 30 min
You Mean to Do Me Harm
By Christopher Chen
Directed by Bill English
PLAY DETAILS
An innocuous comment at a dinner of two interracial couples leads to a surreal escalation of Cold War-style paranoia. You Mean to Do Me Harm is a psychological exploration of Chinese and American foreign relations, and of the personal relations we hold most dear. Originally produced as part of last season's Sandbox series, this captivating new play closely examines the different perceptions we operate under and the difficulty of setting our own boundaries.
THE CAST
San Francisco Playhouse
450 Post St., San Francisco CA 94102 | Box Office: 415.677.9596 | Map and Directions
PHOTOS
Photos by Ken Levin. *Member of Actors' Equity Association, the Union of Professional Actors and Stage Managers.
ABOUT THE PLAYWRIGHT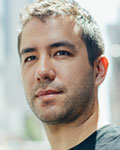 Christopher Chen is an Obie Award-winning playwright whose plays have been performed across the US and abroad. Works include Caught (Obie Award for Playwriting, New York Times Critics Pick, Barrymore Award, Drama League Award nomination), Home Invasion, The Hundred Flowers Project (Will Glickman Award, Rella Lossy Award, James Tait Black Memorial Prize shortlist), Into the Numbers (Belarus Free Theatre International Contest of Contemporary Drama, second place), The Late Wedding, Mutt, A Tale of Autumn, and Passage, which will receive its New York premiere at Soho Repertory Theatre this season. Other honors include the Lanford Wilson Award, a Sundance Institute and Time Warner Fellowship, the Paula Vogel Playwriting Award, a MAP Fund grant, and serving as playwright-in-residence at Crowded Fire Theater. Christopher has been published in Theatre Bay Area, American Theater, Theater Magazine (Yale), The Drama Review, and by Dramatists Play Service. His current commissions include Aurora Theatre Company, LCT3, Manhattan Theatre Club, Oregon Shakespeare Festival, Playwrights Horizons (The Steinberg Commission), and The Royal Shakespeare Company. A San Francisco native, Chris is a graduate of the University of California, Berkeley, and earned an MFA in playwriting from San Francisco State University.
CREATIVE TEAM
San Francisco Playhouse's production of You Mean to Do Me Harm is made possible by executive producers Scott Walecka & Martha Seaver and Janet & William McAllister; producers Gail & Arne Wagner; and associate producers Mary & Tom Foote, Elizabeth Groenwegen, and Betty & Cliff Nakamoto.
San Francisco Playhouse | 450 Post St. Floor 2M, San Francisco CA 94102 | (415) 677-9596