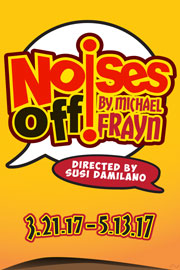 Revival
MARCH 21 – MAY 13, 2017
NOISES OFF Tickets: from $35
Estimated run time: 2 hours, 30 minutes
Noises Off
Written by Michael Frayn
Directed by Susi Damilano
PLAY DETAILS
Called the funniest farce ever written, Noises Off is the most dexterously realized comedy about putting on a comedy. A rollicking backstage farce about a second-rate theatrical troupe, the hilarity combines slapstick, a British sex comedy, and non-stop humor from a manic menagerie of itinerant actors rehearsing a flop called Nothing On. Doors slamming, on- and off-stage intrigue, and an errant herring all figure in the plot of this uproarious and classically comic play.
THE CAST
PHOTOS
ACT II SNEAK-PEAK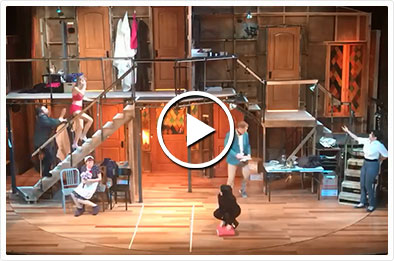 San Francisco Playhouse's production of Noises Off is made possible by: Producers David & Colleen Leof; Associate Producers Muffy Barkocy & John Merlino, Bruce Colman, Karen & David Crommie; and Artistic Underwriter Cynnie Anderson, Kevin Gahagan, Carol & Duff Kurland, and Ursula Schorn
*Member of Actors' Equity Association.
THE CREATIVE TEAM
San Francisco Playhouse | 450 Post St. Floor 2M, San Francisco CA 94102 | (415) 677-9596