OR CALL 415.677.9596 FOR TICKETS AND INFO.
ON CLOVER ROAD
A THRILLER
a National New Play Network Rolling World Premiere
Written by Steven Dietz
Note: All performances of On Clover Road will be held at The Rueff, upstairs at The Strand, 1127 Market St.
"A fascinating production! Bottom line: You are in for a roller coaster ride with this thriller."
– Talkin' Broadway
"Exactly the kind of play that deserves to see the light of day"
– Stark Insider
"A spectacular success! Four Stars for a strong performance."
– SF Theater Blog
PLAY DETAILS
An abandoned motel. A distraught mother. A cruel private investigator. Will mother and daughter be reunited? How far can you push the bonds of family—and how far will you go to bring them back? In this smart, harrowing, edge-of-your-seat thriller, the answers are shocking. On Clover Road is a National New Play Network Rolling World Premiere. Read the Press Release.
San Francisco Playhouse's production of On Clover Road is made possible by Season Executive Producer Rowland Weinstein, Season Producers Robert & Jan Ginsberg, Producer Rowland Weinstein, and Associate Producers David Anderson & Nancy Kaible and Mike Smith.
PRODUCTION PHOTOS
Photos by Rebecca Hodges
PRE-PRODUCTION PHOTOS
Photos by Ken Levin
THE CAST
THE PLAYWRIGHT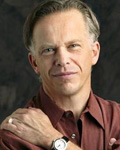 STEVEN DIETZ's thirty-plus plays and adaptations have been produced in regional theatres and internationally have been seen in England, Japan, Germany, France, Australia, Sweden, Austria, Russia, Slovenia, Argentina, Peru, Greece, Singapore, South Korea and South Africa. He received the Kennedy Center Fund for New American Plays Award for Fiction—produced Off-Broadway by the Roundabout Theatre Company; the PEN USA West Award in Drama for Lonely Planet; the Edgar Award for Best Mystery Play for Sherlock Holmes; The Final Adventure; and the Yomiuri Shimbun Award (the Japanese "Tony") for his adaptation of Shusaku Endo's novel, Silence. Other widely produced plays include the Pulitzer-nominated Last of the Boys, Inventing Van Gogh, Private Eyes, God's Country, Halcyon Days, and The Nina Variations which premiered at CATF in 1996. CATF produced the National New Play Network Rolling World Premiere of Yankee Tavern in 2008, and his Rancho Mirage premiered through the same NNPN program in 2013.