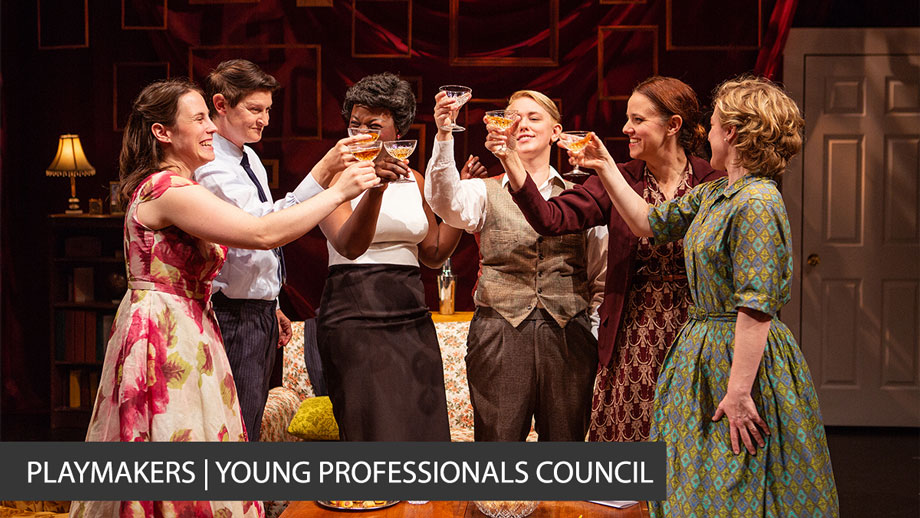 Welcome to PLAYMAKERS – San Francisco Playhouse's Young Professionals' Council.
PLAYMAKERS gives professionals under the age of 40 the opportunity to become vital members of San Francisco Playhouse. Through patronage, advocacy, and networking, PLAYMAKERS gain the skills to become the Producers of tomorrow.
Our mission is to expand the audience base of San Francisco Playhouse to further represent people from a variety of backgrounds and experiences, to foster the next generation of theatre advocates and promoters of empathy, and to create long-lasting relationships with local San Francisco businesses and our local community.
Benefits:
Recognition of your status as a PLAYMAKER on the San Francisco Playhouse website and in individual show programs
Subscription tickets to the full 9 show season of San Francisco Playhouse and a 50% off code to each show for a guest
Access to discounted group ticket rates to San Francisco Playhouse productions
Invitation to the annual Sandbox Season Announcement Party
Pre-show Happy Hour events with other PLAYMAKERS
Networking opportunities with the San Francisco Playhouse Board of Directors
Opportunity to serve on committees to help organize and execute yearly activities, fundraising events, and more
Free drinks for you and a guest at San Francisco Playhouse productions
Responsibilities:
Attend the full 9 show season of San Francisco Playhouse
Introduce and invite two people a year to the Playhouse and ensure their names are added to the company database
Advocate for the theatre through "liking" and "sharing" every show on social media platforms
Participate in at least 4 out of the 6 bi-monthly meetings as well as act as a committee member for one of the three committees
Organize, as a Council, an annual fundraiser to benefit San Francisco Playhouse
Pay $500 a season for your membership
Interested in becoming a PLAYMAKER? Fill out the application here and email it to us at [email protected]!