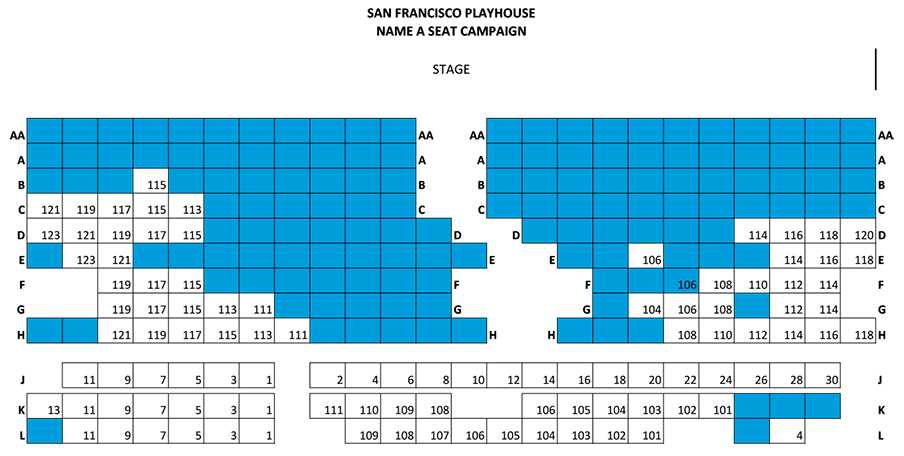 Why name a seat?
It takes many, many people to produce world-class theatre. By naming a seat, you will help secure future seasons for San Francisco Playhouse. We will continue to share stories that uplift our spirits, deepen self-awareness, and nurture a compassionate community. Join us in producing award-winning theatre in our bay area community.
How do I sign up?
You can name a seat with a gift of $2,500 or more for an Orchestra Seat, $2,000 or more for a Mezzanine Seat, and $1,500 for a Balcony Seat*. There are several ways to make your gift:
Online (Click on Buy a Seat to the Right)
Mail a check to 588 Sutter Street #318, San Francisco, CA 94102
Make a stock donation (click here for information)
Contact Stewardship Coordinator Tiiu Eva Rebane at 415.866.8907
Seats are sold on a first come, first served basis. The seating map above contains the seats still available on March 1, 2019 (numbered white spaces).
What comes with naming a seat?
Our never-ending appreciation for your support of live theatre at San Francisco Playhouse. Your name will be proudly displayed on the seat of your choice. You will also receive a one-year membership to the Inner Circle, which includes a whole bunch of theatre-enhancing benefits. Click here to learn about the Inner Circle
Please know that naming a seat does not bestow free tickets or guarantee that specific seat assignment at Playhouse performances and events. We will try our best to reserve your seats should it be available. Also, Artistic Underwriting and Producing Gifts are separate from Seat Plaque Gifts. However, you may designate your Seat Plaque gift to the Rising Star Program, the New Works Program, or our General Fund.
Thank you!