The Scene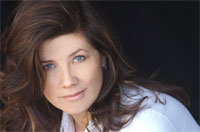 The SF Playhouse presents
DAPHNE ZUNIGA in
"THE SCENE"
By Theresa Rebeck
Directed by Amy Glazer
Opens (Press Night) February 2 through March 8, 2008
The POWER of CONNECTIONS
San Francisco, CA (January 2008) – The SF Playhouse (Bill English, Artistic Director; Susi Damilano, Producing Director) are pleased to announce casting for the West Coast Premiere of Theresa Rebeck's The Scene which will fill its previously unannounced slot in their fifth season. Amy Glazer will direct. The Scene will open February 2nd, thus moving the opening of the West Coast Premiere of Coronado to March 22nd.
The SF Playhouse is thrilled to welcome Daphne Zuniga* of Melrose Place and Spaceballs fame to their stage. She will be joined by Aaron Davidman*, Heather Gordon and Howard Swain*. *Appear courtesy of Actors Equity.
Theresa Rebeck's The Scene, a thoroughly modern, sharply-written black comedy, was the scene-stealer at the 2006 Humana Theater Festival. It is full of people in 'the scene,' on 'the scene' and desperate for 'the scene.' If you have ever done something despite your better judgment, maybe chose to follow the crowd instead of following your gut to avoid hard, emotionally painful work, then you will understand Charlie, the provocative and complex protagonist in this fierce, edgy, raw, and scathing new comedy.
Inspired by Rebeck's occasional forays in the Manhattan party circuit, her run-ins with celebrities six stories high, and poignant, self-revelatory films like Of Human Bondage and Blue Angel, the play starts out sickly funny and turns darker and darker the further Charlie goes down the road. Like a good Chekhovian drama, the play showcases the humor and tragedy of everyday life. Its biting satire echoes Molière's ruthless comedic attention to detail, and like a satisfying Greek tragedy, the piece mines humanities brutality examining how self-loathing can move from the world and into the self. "Human beings range from saints to monsters, and for me, you're constantly being challenged as to where you're going to fall on that continuum. What choices are you going to make? Which direction are you going to go in?" Rebeck asks.
We are living in difficult times, according to Rebeck, and it's easy to be confused about what it means to be a human being in this world. For those struggling to make sense of the world, like Charlie, the play is a reminder that the journey can be funny as well as terrifying.
For tickets ($65 opening night, $38 regular, and $20 preview performances) or more information, the public may contact the SF Playhouse box office at 415-677-9596, or visit www.sfplayhouse.org, TicketWeb.com, or the TIX box office on Union Square.
Theresa Rebeck made her Broadway debut with Mauritius this fall. Past New York productions include The Scene, The Water's Edge, Bad Dates, The Butterfly Collection, Spike Heels, Loose Knit, The Family of Mann, View of the Dome and Omnium Gatherum (co-written, Pulitzer finalist). Publications include her Collected Plays Volume I (volumes II and III, fall 2007), Free Fire Zone (fall 2007), all with Smith & Kraus, and her first novel, Three Girls and Their Brother (spring 2008) with Shaye Areheart/Random House. Rebeck has written extensively for film and television as well. She has won the National Theatre Conference Award, the William Inge New Voices Playwriting Award, Boston's Elliot Norton and IRNE awards, a Writers Guild Award, an Edgar, and a Peabody.
In television, Ms. Rebeck has written for Dream On, Brooklyn Bridge, L.A. Law, Maximum Bob, First Wave, Third Watch, and NYPD Blue, where she also worked as a producer. Produced features include Harriet the Spy, Gossip, and the independent feature Sunday on the Rocks. Awards include the Mystery Writers of America's Edgar Award, the Writer's Guild of America award for Episodic Drama, the Hispanic Images Imagen Award, and the Peabody, all for her work on NYPD Blue. She has been a finalist for the Susan Smith Blackburn prize twice, won the National Theatre Conference Award (for The Family of Mann), and was awarded the William Inge New Voices Playwriting Award in 2003.
Ms. Rebeck holds a PhD. from Brandeis University in Victorian Melodrama. She and her husband Jess Lynn have two children, Cooper and Cleo.
Amy Glazer has directed world, American, and West Coast premieres at Magic Theatre, including Sam Shepard's The God of Hell; Rebecca Gilman's The Crowd You're in With, The Sweetest Swing in Baseball, Blue Surge, and The American in Me; Steven Belber's Drifting Elegant and Tape; and Barry Gifford's Wyoming. Her other Bay Area credits include Frozen, Displaces, Life x 3, My Old Lady, The Music Lesson, Misalliance, Candida and Indiscretions (Marin Theatre Company); Stonewall Jackson's House and Trust (Eureka Theatre); Spinning into Butter, Pride's Crossing, An American Daughter, Conversations with My Father, Marvin's Room, and Mrs. Klein (TheatreWorks). The recipient of Dean Goodman, Drama-Logue, and Bay Area Critics' Circle Awards and finalist for TCG's 2003 Alan Schneider Director Award, Amy is an associate artist at Magic Theatre and is a theatre and film professor at San Jose State University. Her short film, Ball Lightning, premiered at the Locamo International Film Festival, and her feature film, Drifting Elegant, premiered at the Mill Valley Film Festival.
Daphne Zuniga began her film career with Rob Reiner's "The Sure Thing" opposite John Cusack and Tim Robbins. Then she starred opposite Lucille Ball in Ball's final performance, "Stone Pillow". Daphne went on to star in feature films such as Mel Brooks' "Spaceballs", "Vision Quest", "Gross Anatomy" with Christine Lahti and Matthew Modine, and "Staying Together" with Stockard Channing, directed by Lee Grant. Other films include, "Last Rights", and "Stand Ins". Zuniga became familiar to millions of viewers when she appeared for four years as Jo Beth Reynolds on the hit series "Melrose Place."
Born and raised in Berkeley and Vermont, with delightful stints in Canada and Guatemala, Zuniga is the eldest daughter of a Unitarian minister mother, and a philosophy professor father. Daphne studied a year at the American Conservatory Theater in San Francisco, before enrolling in the theater program at UCLA. She also studied with renowned acting teacher, Peggy Feury at the Loft Studio, with Larry Moss, and Penny Allen.
Most recent television appearances include the acclaimed NBC series "American Dreams", the ABC Family Channel series "Beautiful People" and star alongside Jay Mohr in the ABC Family film, "Christmas Everyday". Most recently, she guest starred in the season premiere of "Nip/Tuck" and throughout the new season of "One Tree Hill".
When not working, she is devoted to the environment of our planet and "mercury awareness" working with such organizations as the CBE (Communities for a Better Environment), the NRDC (Natural Resources Defense Council) and Water Keeper Alliance. Her documentary of the TED Conference "The Future We Will Create," which she produced and directed, is available in stores and Amazon.com.
Founded by Bill English and Susi Damilano in 2003, The SF Playhouse is Union Square's intimate, professional theatre. Using professional actors and world class design, The SF Playhouse, which won the Bay Guardian's 2006 Best Off Broadway Theatre Award and about which the San Francisco Chronicle raved, "San Francisco's newest theatre isn't just another tiny stage carved out of a storefront . . . its an enticing introduction to a new company," has become an intimate theatre alternative to the traditional Union Square theatre fare, garnering 20 Bay Area Theatre Critic nominations in its first year and being named as "most improved" Theatre Company by the SF Chronicle in 2007. Providing a creative home and inspiring environment where actors, directors, writers, designers, and theatre lovers converge, The SF Playhouse, hailed as a "small delicacy" by SF Weekly and "eclectic" by the San Francisco Bay Guardian, strives to create works that celebrate the human spirit and inspire.